Youth Compete in Union-wide Bible Bowl
April 21, 2008 ∙ by kkajiura ∙ in Columbia Union News
By Pamela Scheib 
Photos by Art Calhoun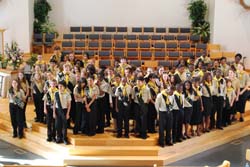 Recently 11 Pathfinder clubs from the Chesapeake, Mountain View, Ohio, and Pennsylvania conferences participated in the Columbia Union Pathfinder Bible Achievement. This year's event was hosted by the Chesapeake Conference and was held in the Highland View Academy chapel in Hagerstown, Md.
The Pathfinders were asked 90 questions testing their knowledge on the Gospel of Matthew. The scoring is based on the club with the highest score. All clubs that came within 90 percent of that score were given a first place and made eligible to compete in the Division Level achievement held at the Pioneer Memorial church in Berrien Springs, Mich.
Of the 12 clubs who participated, six clubs were awarded first place: the Delaware Discoverers and Columbus Ghanaian from the Ohio Conference, the Harrisburg Diplomats and Reading Hampden Hawks from the Pennsylvania Conference, and the Spencerville Polar Bears and Triadelphia Sparks from the Chesapeake Conference. Congratulations to all of the winners!!