Baltimore First Church Rises From the Ashes
August 14, 2008 ∙ by kkajiura ∙ in Chesapeake Conference
By Kim Popowski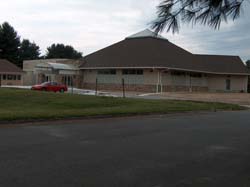 Michael Popowski, president of PBI, Restoration Resources—a licensed contractor specializing in fire, water, and storm damage restoration—has announced that the company has completed the rebuild of Chesapeake Conference's Baltimore First church in Ellicott City, Md.
Thursday evening, June 1, 2006, 60 firefighters struggled to douse a fire that destroyed the sanctuary of the Baltimore First church. The blaze broke out on the roof of the building shortly after a severe lightning storm passed through the area. The storm resulted in a lightning strike to the roof of the sanctuary, which ignited the inferno. The sanctuary suffered severe damage, leaving no alternative but to demolish what remained—minus the surviving, large wood cross. 
Baltimore First pastor Ben Boggess immediately began working with PBI, Restoration Resources the following day to start the long rebuilding process. "We need to move forward, and we are going to rebuild regardless of any circumstances," said Boggess. 
Many obstacles faced the church over the next two years. Temporary worship space was necessary and the only alternative was the use of their gymnasium. The gym was already cramped for space and it no longer had heating or air conditioning due to the loss of all mechanical systems after the fire. The only solution was to utilize the gym for worship while expanding it at the same time. This work was done in conjunction with the construction of the new sanctuary. 
For worship services during construction, every person in the congregation was greeted at one end of the facility and escorted through the construction zone to the temporary space. "It was very important to keep a warm and friendly atmosphere in the middle of a construction site," said Pastor Boggess. 
More then two years and millions of dollars later, the new home of the Baltimore First church is completed. The grand opening celebration is Saturday, August 23, 2:30 p.m., for the recognition and consecration services. Anyone wishing to attend is invited.