Cortes Elected President of New Jersey Conference
September 24, 2007 ∙ by kkajiura ∙ in New Jersey Conference
By Celeste Ryan Blyden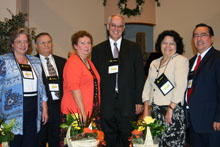 At the 38th Regular Constituency Session of the New Jersey Conference, delegates elected José Cortes to serve as president for the next five years. Cortes, who has served the conference for 20 years as a pastor, departmental director, and, most recently, executive secretary, was welcomed to office with a standing ovation. "I would love for this to be my last assignment, not because I want to serve for many years, but because I want Jesus to come and take us to be with Him forever and ever," he announced drawing a chorus of "Amens!" 
The ovation was then directed at retiring president LeRoy Finck, who has led the conference since 1996. "The driving force in my tenure has been Jesus' prayer in Matthew, 'that we may all be one,'" Finck noted. He said he wanted to be remembered for improving the conference's finances, growing churches and schools, getting a new conference office building, and being a unifying agent among New Jersey's diverse membership, which recently crossed the 12,000 mark. At the request of Cortes, Finck will serve his last few months before retirement as executive secretary, after which time the newly elected executive committee will permanently fill the position. 
Jim Greene, who joined the administrative team as treasurer last year was re-elected, as was youth and Pathfinder director Laffit Cortes (no relation). Leonel Pottinger, a pastor, was elected to serve as ministerial director, but the position of education superintendent was referred to the executive committee. 
The daylong quadrennial session, convened at the Robbinsville church, outside Trenton, N.J., drew 305 delegates who were engaged from the morning devotional to the closing prayer of dedication. The session ended with the singing of the "Hallelujah Chorus" in Portuguese by Newark's Luzo-Brazilian church choir and a balloon release. 
Read more of this story in your November Visitor.