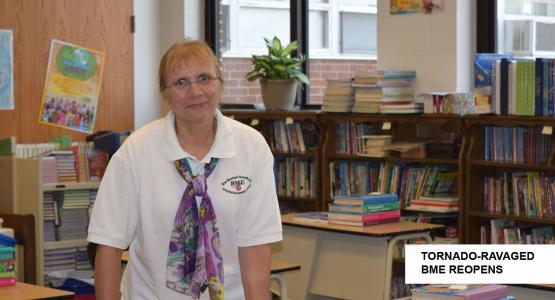 Tornado-Ravaged BME Reopens
August 18, 2015 ∙ by Anonymous ∙ in Education, Pennsylvania Conference
Blue Mountain Seventh-day Adventist Elementary School (BME) staff in Hamburg weren't sure if BME would open as scheduled this year after an EF-1 tornado destroyed the building this summer. The twister removed most of the classrooms' roof, completely removed the gym roof and knocked down several walls.
Story by Tamyra Horst, Pennsylvania Conference
The tornado destroyed the building, but it did not destroy the future of Seventh-day Adventist elementary education in Hamburg. BME has served families in Hamburg and the surrounding areas since 1954, and its staff is committed to continuing to provide an Adventist, Christian education that includes academic excellence, social development and spiritual growth. The school board and task force created to work with the school and community in the aftermath of the storm quickly worked to establish a new location. "One of our first priorities after the tornado was to do what was best for the students and staff," states Jeff Bovee, conference vice president of education. "It was important to be able to open on time and provide them with all the resources they needed."
August 18 more than two dozen students began the school year as scheduled thanks, in part, to Blue Mountain Academy (BMA) and the Blue Mountain Academy church, who offered the temporary use of their facilities. Within a week of the storm, salvaged materials were put into place in the church's Sabbath School rooms. Volunteers and BMA students went through hundreds of books one-by-one, salvaging about 40 percent. Volunteers donated other needed items and staff purchased supplies, set up and decorated rooms and hosted an open house before the first day, giving students and their families an opportunity to see the new classrooms.
"It was amazing to see the outpouring of support from the community at large," says Merle Whitney, chairman of the BME school board and task force. "Nearby residents and TV camera crew members joined volunteers from the school and church families. Wal-Mart, Dunkin' Donuts, Lowe's and Pizza Hut donated water, tarps and food."
Feature photo: Rachel Wardecke, principal, has 12 students in her classroom this year.