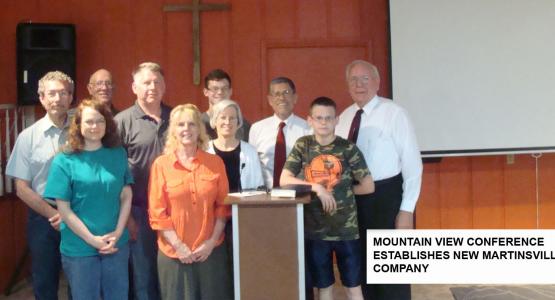 Mountain View Conference Establishes New Martinsville Company
August 08, 2015 ∙ by Anonymous ∙ in Mountain View Conference
A 2013 partnership between the Voice of Prophecy (VOP) and the Mountain View Conference (MVC) recently resulted in a new church company in West Virginia. One of the three mailings the partners sent to blanket the MVC was focused in the New Martinsville area. The Toll Gate church, located in nearby Pennsboro, accepted the return VOP Bible study interest cards that came from New Martinsville and surrounding areas.
Story by Valerie Morikone, Mountain View Conference
Donald Waldron, a Toll Gate deacon, and Daniel Morikone, Toll Gate pastor, visited more than 50 homes of people who indicated interest in Bible studies following the mailings. Together, they visited the potential Bible students. Nearly a year later, a small core group started meeting periodically on Sabbath afternoons in Paden City, a town about 10 miles from New Martinsville.
As the students began to believe in the seventh-day Sabbath and grew closer to Waldron, some expressed a desire to worship on Sabbath as a group. Recently the New Martinsville group officially became a company. Larry Boggess, conference president, attended the first official service. Now the group meets every Sabbath afternoon for two hours for Bible study and fellowship.
"I am very happy to [see] the direction the Lord is moving with the New Martinsville project," shares Waldron, who is acting as lay leader. "Doors are opening, and I'm walking through them [while] praying for increased faith in the promise that, as God's Word goes out, it will not return void" (see Isaiah 55:11).