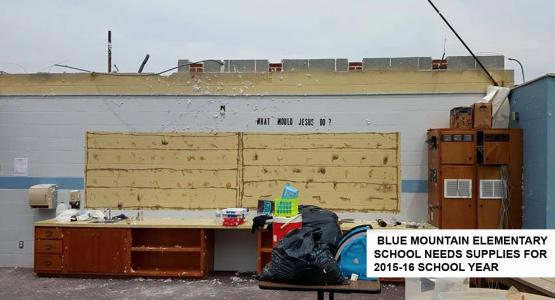 How to Help Blue Mountain Elementary School
July 27, 2015 ∙ by Anonymous ∙ in Education, Pennsylvania Conference
Want to help Pennsylvania Conference's Blue Mountain Seventh-day Adventist Elementary School in Hamburg that was recently destroyed by a tornado? Help the school prepare for the 2015-16 school year by sending supply donations.

Linda Johnson, Pre-K and kindergarten teacher, requested the following supply donations:
Q-tips
Cotton balls
Chart stand
Chart tablets
Wooden puzzle rack
Wooden puzzles
Floor puzzles
Rest mats  (10)
Geometric set
3-D Geometric set
Washable Tempera Paint
Paint Brushes
No spill paint cups
Sponges
Clothes pins
Smocks
Construction Paper  (all colors)
Crayola crayons
Crayola Markers
*Broad line
*Fine line
Lacing beads/cards
Google eyes
Feathers
Buttons
Pattern cards
Play Dough
cookie cutters
Sharpies   (different colors)
Beginner Pencils
Clorox wipes
Scissors
Scotch Tape/Dispenser
Masking Tape
Elmers Glue   4oz bottles and 1 gal size bottle
Glue sticks
Paper clips/dispenser
Staplers/staples
Mobil Organizer (2)   10 drawer-5 different colors
Trucks/Cars
3 hole paper punch
1 hole paper punch
Educational toys
Building Blocks
Doll High chair
Animal sets-  farm, zoo, dinosaurs, ocean
10 small tin pails
Play tool set
Small frig
Microwave
Toaster
Water cooler
Easel
Kdg handwriting paper
Electric pencil sharpener
Any age appropriate educational toys will be appreciated; Melissa and Doug are especially well-made and strong
Where to take the items:
Blue Mountain Academy, 2363 Mountain Rd, Hamburg
Or the Pennsylvania Conference office, 720 Museum Rd, Reading.
Call (610) 562-5052 for more information.