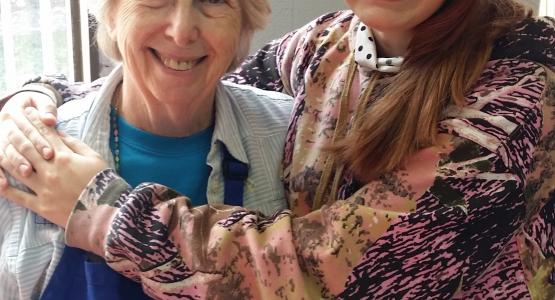 Shenandoah Valley Academy Says Farewell to an Alumna, Employee and Friend
May 27, 2015 ∙ by Anonymous ∙ in Editorials, Education, Potomac Conference
We Say Farewell to an Alumna, Employee and Friend

 Story by Dale Twomley
"I'll miss my students the most," says Sarah Smith, pictured with Kimberly Ware-Simmons ('16), one of her student workers.
As our school year draws to a close, we as a staff naturally reminisce over the times we have shared these past many months. And, like the many years before it, this school year was filled with incredible moments that reinforce our belief in Shenandoah Valley Academy's (SVA) mission: "We exist to provide a distinctly Seventh-day Adventist college preparatory program through experiences to produce disciples of Jesus who are compassionate citizens prepared for college and careers."
For one of our beloved staff members, the end of this school year signifies more than yet one more successful academic year—it signifies the cap of a 30-year career of providing excellence to our youth. Sarah Smith, assistant director of food services, and a beloved staple on this campus for three decades, is retiring.
"I began working here in the summer of 1984," Smith recalls. "My husband's job had recently transferred him to nearby Harrisonburg, and I wanted my children to be in our Adventist schools."
Smith, an SVA Class of 1968 alumna, is also a product of Seventh-day Adventist education. "My parents had a big influence on me and my deep-rooted belief in our system," she says. "Many years ago, they proudly watched five out of six children receive their diplomas from SVA. And, that is why I support it to this day."
She adds, "I have many fond memories here, both as a student and as an employee. It's been very interesting working with the students—it's never dull! I will miss that the most. …The students; watching them grow up. The staff. All of the friends I have made here."
Smith, from SVA's Class of 1968, poses for her senior picture.
Though Smith is moving on, she will stay connected. Her retirement plans include "volunteering much more and joining a quilting group."
Smith is a prime example of the caliber of staff member SVA strives to employ. Her steadfast and Christian spirit is a wonderful example to the students. SVA has been incredibly blessed to have had Smith as a student, an employee, a leader and, most importantly, a friend.
Dale Twomley,
Principal