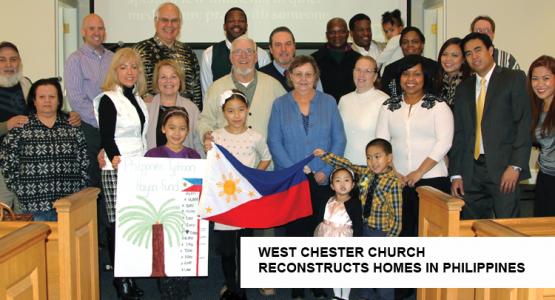 West Chester Church Reconstructs Homes in Philippines
April 08, 2015 ∙ by Anonymous ∙ in Pennsylvania Conference
When Typhoon Haiyan made landfall in the Philippines, it impacted more than 13 million people and approximately 250,000 homes. The devastation also impacted the family of Leila Dumagsa-McGowan, an elder at the West Chester church who was born and raised in Merida on the island of Leyte, Philippines. Not one of her family members' homes survived the storm, but in spite of that grief, they quickly organized free lunches for school children in need.
Story by John McGowan/ Photo by by Leila Dumagsa-Mcgowan
Leaders of the West Chester church wanted to help. They established the "Help for Merida Philippines Fund" as a yearlong initiative to raise money to replace roofs, rebuild one or two homes and cover additional needs that arose during the process. Leaders thought they could raise $5,000 in one year. Despite being a small congregation, the members decided that the goal should be $10,000.
By the end of the year, they actually raised $13,186 in donations. These monies were used to complete four home reconstruction projects. Enough money remained to invest in local businesses and to provide support to the local Merida church to rebuild their children's classroom.