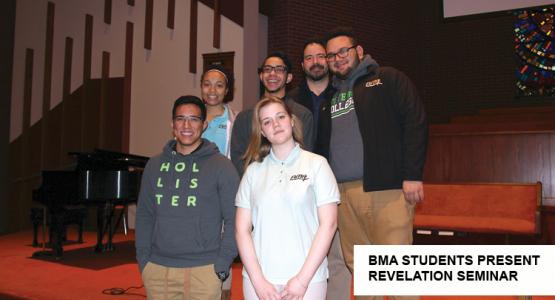 Blue Mountain Academy Students Present Revelation Seminar
February 23, 2015 ∙ by Anonymous ∙ in Education, Pennsylvania Conference
Blue Mountain Academy Students Present Revelation Seminar
Story by Caron Oswald
When Ever Perez started working at Blue Mountain Academy, the new chaplain, senior Bible class teacher and church pastor knew his priority—to give the students a solid foundation in the knowledge of Jesus Christ.
One of his responsibilities includes organizing four FOCUS (Focus on Christ's Ultimate Sacrifice) weeks each year. To kick off the second semester, Perez planned a prophecy seminar about the book of Revelation that focused on Jesus. "I wanted to make sure that, [at] the beginning and the end, the focus is Jesus," he says.
January 12-17 students preached at the evening meetings and Perez spoke on the closing Sabbath. The topics were "The Revelation of Jesus Christ," "The Truth About Prophecy," "The Sea Beast Revealed," "The Land Beast Revealed," "Signs of the Times" and "How to Prepare."
Senior Angelina Shevchenko, an exchange student from Russia, spoke on the first night. "I was worried about my accent," she says about her first time preach- ing in English. "I prayed, 'If you want me to speak, you have to do this.' When I got on the platform, I felt God was by my side.'"
The speakers inspired the attentive audience. "It was interesting to learn about Revelation," says sophomore Brianna Maxwell, who had never attended a prophecy seminar. "Most students are afraid of end times. But, there is no reason to be afraid because God is right beside you."
Registrar Diana Engen became a member of the Seventh-day Adventist Church through a prophecy seminar. "I haven't been to a prophecy seminar in years. It was really nice to attend one again. The stu- dents did a great job," she says.