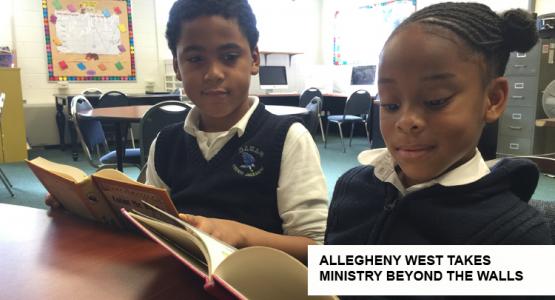 Allegheny West Conference Takes Ministry Beyond the Walls
February 11, 2015 ∙ by Anonymous ∙ in Allegheny West Conference, Editorials
Allegheny West Conference Takes Ministry Beyond the Walls
Editorial by William T. Cox, Allegheny West Conference President
Here are just a few ways God blessed the Allegheny West Conference in 2014:
We experienced the second highest tithe increase in the last five years
We baptized nearly 700 people
Our two schools had the largest enrollment in the last 10 years
We purchased a new conference office after spending the last 47 years in a house
We provided more than $190,000 to our churches to help purchase, remodel or build new facilities
We realize that God gets more praise out of how we live during the week than what we do while in church on Sabbath morning. Keeping this in mind, our theme for 2015 is "Ministry Beyond the Walls!" We want to live out this theme by focusing on evangelism, stewardship, young adult ministry and Adventist Christian education.
Baptismal candidates at Temple Emmanuel church in Youngstown, Ohio, await baptism.
Every problem we face is instantaneously solved when Jesus comes. Sickness, death, family crisis, housing and financial concerns are all taken care of when Jesus comes. Many times we are so distracted by the cares of life that we forget that our trials are temporary. When we focus on evangelism and the soon return of Jesus, we address the real answers to our condition. I am challenging our pastors and members to lead 1,000 people to baptism this year.
Most people think of money when they hear the word stewardship. However, stewardship is a lifestyle that acknowledges that God owns everything. He owns our time, talents and resources. What would happen in our churches if we, as members, became better stewards? The power of our witness would be greatly multiplied. This singular truth will help to engage our young adults that are waiting for the church to become active and relevant to the day-to-day issues we face.
Through Young Adult Ministries, we want to take ministry outside the walls of the church and begin to actively meet human needs. Mission trips, food pantries, community fairs, block parties, shelters for the homeless and victims of domestic violence are just a few areas that we want to become more intentional about addressing in our service.
First-graders Peyton DuBose and Jaiden Franklin enjoy reading in Ramah Junior Academy's media center.
In 2014 we had the highest enrollment in our two schools. All of our teachers were certified, and our students tested higher in many areas than those in public schools. We must look at Adventist Christian education as a ministry and mission for our children and the community.
I believe that 2015 will be one of the greatest years ever as we prepare for Jesus' soon return. Let's get started with "Ministry Beyond The Walls!"
William T. Cox, President