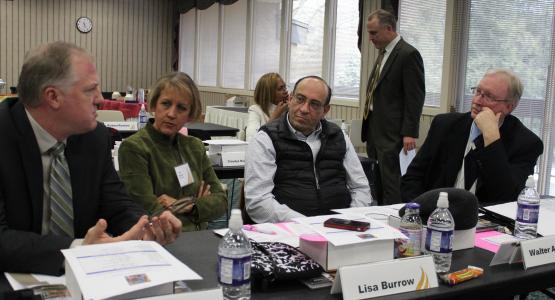 La Union Elige a Los Delegados de la Sesion de la Asociacion General
February 03, 2015 ∙ by Anonymous ∙ in Columbia Union News, Noticias, This Month's Issue
La Unión Elige a Los Delegados de la Sesión de la Asociación General
Historia escrita por Celeste Ryan Blyden
Durante las reuniones de fin de año de Columbia Union el otoño pasado, el comité ejecutivo de Columbia Union votó por los 28 miembros que servirán como delega- dos de la Sesión de la Asociación General. La sesión se reúne cada 5 años en la que los delegados eligen a los oficiantes de la iglesia mundial y sus 13 divisiones mundiales; realizan cambios en las creencias fundamentales, la constitución y los estatutos; escuchan los reportes y actualizacio- nes de los líderes en cada región de la iglesia mundial; y otros asuntos, tales como la ordenación de la mujer.
A cada división y unión mundial se le asigna un cierto número de delegados basado en la cantidad de miembros. Columbia Union, cuyo total de miembros es 141,000, recibe 28 de los 237 asignados a la División Norteamericana.
Según Rob Vandeman, secretario ejecutivo de la unión, el proceso de selección es muy complejo y debe ser equilibrado según género, raza, edad, rol y posición. Cada uno de los tres oficiales ejecutivos de la unión y cada uno de los presidentes de las 8 asociaciones de la unión se seleccionan automáticamente. Los 17 restantes deben asignarse basado en los criterios anteriores.
Pictured: Columbia Union Executive Committee Members from the Chesapeake Conference discuss who to select as delegates for the 2015 General Conference session.
Read these articles from the February 2015 Visitor!