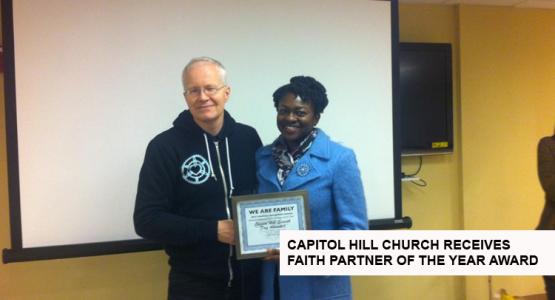 Capitol Hill Church Receives Faith Partner of the Year Award
December 17, 2014 ∙ by Anonymous ∙ in Allegheny East Conference
We Are Family Senior Outreach Network recently named Allegheny East Conference's Capitol Hill church (CHC) in Washington, D.C., Faith Partner of the Year. Mark Andersen, founder of the outreach network,  presented the Horace McKenna Award to CHC as part of the We Are Family 2014 Volunteer Recognition Awards for going above and beyond in service. Karen Hayes, a member of the church's Community Services Ministry,  accepted the award.
In July CHC held an ice cream and games social for residents of Kelsey Apartments, a senior residence in Washington, D.C., run by the nonprofit. In August over 25 CHC volunteers provided and delivered 300 vases filled with flowers and 300 bags of groceries to the seniors.
The We Are Family Senior Outreach Network is a local nonprofit that serves over 600 seniors with food, services and advocacy.