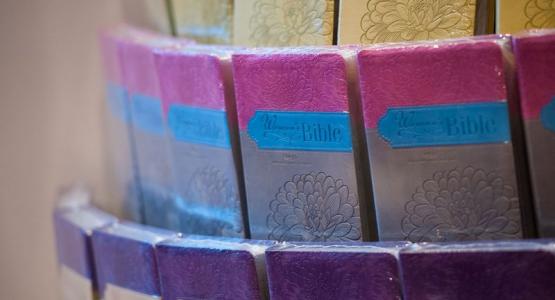 Seventh-day Adventist Church Releases its First Women's Study Bible
October 23, 2014 ∙ by Anonymous ∙ in Uncategorized
The Seventh-day Adventist Church's Women's Ministries department this month released the Woman's Bible, the first study Bible specifically designed for women by the Adventist Church.
Story by ANN Staff/ Photograph by Viviene Martinelli
The Woman's Bible, published by Safeliz Publishing House, is a New King James Version of the Bible that offers more than 100 commentaries, study materials and profiles on major and lesser-known female biblical characters.
All articles were written by Adventist women members, biblical scholars and pastors.
Women's Ministries Director Heather-Dawn Small said she hopes the new resource will encourage women to read the Bible more often.
"We're so glad we could offer this resource to encourage our sisters globally in their walk with God, to motivate women who may not read the Bible or read much of it to do so," Small said. "We wanted to give women tools at their fingertips that can be used in personal Bible study and when giving Bible studies to others."
Small said the project is one she pursued for four years without success. Safeliz, an Adventist Publishing House in Spain, approached her about a project 18 months ago. The two organizations spent the next five months gathering articles from a variety of female Adventist writers worldwide.
The project's four main contributors are Jo Ann Davidson, a professor of systematic theology at Andrews University Theological Seminary; Carla Gober, director of the Center for Spritual Life and Wholeness at Loma Linda University; Elizabeth Talbot, speaker/director of the Jesus 101 Biblical Institute; and Hyveth B. Williams, professor & director of homiletics at Andrews University Theological Seminary.
The Woman's Bible also includes articles by more than 40 other writers around the world. It also features original color art on women in the Bible and a series of Bible studies. "A woman could give Bible studies to anyone with her own Bible," Small said.
Adventist Church President Ted N. C. Wilson prayed over a copy of the Woman's Bible last week at the denomination's Annual Council, saying the project would be a blessing for women worldwide.
The Woman's Bible is available in English, French and Spanish, as well as four different covers. It's available at adventistbookcenter.com.
This story was first posted on ANN.