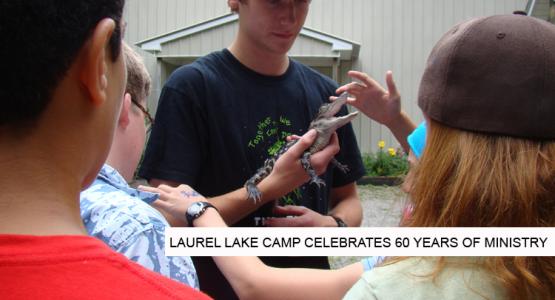 Laurel Lake Camp Celebrates 60 Years of Ministry
October 08, 2014 ∙ by Anonymous ∙ in Pennsylvania Conference, Uncategorized
Story by Tamyra Horst
Kris Eckenroth, pastor of the Grace Outlet church in Reading, remembers his first year as a camper at the Laurel Lake Camp (LLC) in Rossiter. At age 7, he spent a week earning Pathfinder honors in horsemanship, archery, nature, swimming, waterskiing, model rocketry and canoeing.
That summer changed his life. "I would go on to attend Laurel Lake as a camper for nine straight summers. Later I would become a staff member for the next eight summers," he recalls. "Mentors like Don Baker and David Ferguson were used by the Lord in this setting to impact my life for eternity. The camp ministry here in Pennsylvania has impacted so many lives over the years."
LLC celebrates 60 years of ministry this year. Purchased in 1954, the camp was originally the 150-acre Painter Farm. The first summer camp program was a four-day community camp for 30 boys held in 1956. By 1957 the camp offered weeklong programs for kids aged 8-11 and 12-16, in addition to the community camp, which was held each year until 1960.
Throughout the years, camp leaders purchased additional land, built new buildings and made improvements. They completed the lodge in 1988 and named it Baker Lodge in 1991 in honor of Don Baker, who was instrumental in its construction and who served as conference youth director and summer camp director for many years. LLC continues to change and impact lives through four weeks of summer camp, Camp Can Do for the blind and visually impaired, Pathfinder events, outdoor schools, and various retreats and events planned for adults.
See more photographs of the event on the Pennsylvania Conference's Facebook page.