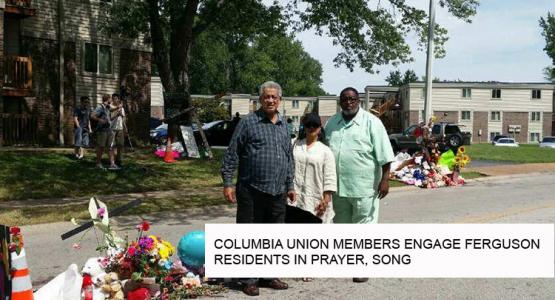 Columbia Union Members Engage Ferguson Residents in Prayer, Song
September 02, 2014 ∙ by Anonymous ∙ in Allegheny East Conference, Potomac Conference
Columbia Union Members Engage Ferguson Residents in Prayer, Song
Story by Visitor Staff
Prayer warrior Yolanda Banfield, a member of Allegheny East Conference's Emmanuel-Brinklow church in Ashton, Md., was talking to God during her morning devotions. As a mother of three sons, she was deeply troubled by the violent scenes in Ferguson, Mo., she viewed on television after the controversial shooting death of an unarmed black teen by a white officer. God impressed Banfield to call Rocky Twyman, a member of Potomac Conference's Rockville (Md.) church. Twyman is a prayer activist who founded the Pray at the Pump Movement and has become known for using prayer and activism in efforts to bring down the high gas prices of 2008.
After asking God for guidance, Banfield and Twyman decided to journey to Ferguson to call attention to the need for racial healing. When they arrived, they joined forces with Darryl Alexander, a friend who is a member of the Northside (Mo.) church in the Ferguson area and lives only a few blocks from the fatal shooting. All three of the Seventh-day Adventist members grew up in Atlanta and remember the peaceful movement of Martin Luther King Jr.
On Friday evening, August 22, the trio hosted a prayer vigil of racial healing at the Greater St. Mark Family Church. To the 200 attendees, they emphasized the need for everyone to follow King's example to pray before taking to the streets. They also urged the marchers to cut off the rap music with words that encourage disrespect for the police and it replace it with the spiritual songs of the civil rights movement of the 60s, such as "We Shall Overcome."
On Sabbath Banfield, Twyman and Alexander joined a street memorial in Ferguson with about 100 students from the St. Louis Community College to pray and sing. The Adventist prayer warriors also distributed more than 300 tracts and had prayer with several discouraged individuals.
"The people of Ferguson must never forget the text in the Bible that boldly states that we wrestle not against flesh and blood but against angels and principalities and the rulers of the darkness of this world," says Twyman. "Human efforts are failing and there has never been a more perfect time to call for divine intervention to cast out the demoniac forces that want to destroy this town."
Media Coverage
Both events received national media coverage on FOX and PBS stations and through Reuters. In addition Brian Karem, editor of The Montgomery County Sentinel Newspaper, accompanied the two Columbia Union prayer warriors to the Ferguson area and published an article about the efforts there. (See the Sentinel article here.) Karem is working on a television documentary that will highlight the efforts of these Adventists.
To read about another Adventist congregation helping to ease local tensions, click here.
Photo Caption: Rocky Twyman, Yolanda Banfield and Darryl Alexander reflect near a memorial to Michael Brown, a teenager recently killed in Ferguson, Mo.