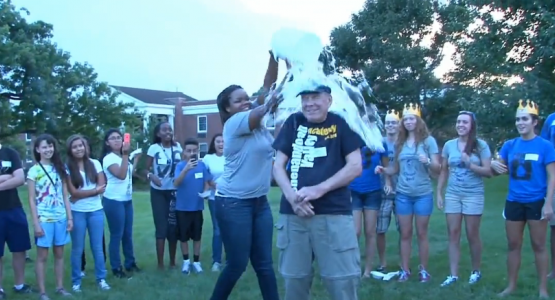 SVA Principal Takes Ice Bucket Challenge, Helps Support Adventist Education
August 26, 2014 ∙ by Anonymous ∙ in Education, Potomac Conference
The
ALS 
Ice Bucket Challenge, a campaign to raise awareness and funds for amyotrophic lateral sclerosis (ALS) research, has been making its way around local news stations, social media and finally hit Shenandoah Valley Academy (SVA) in New Market, Va. Roy Wu, an alumnus from the Class of 1993, challenged John Wagner, SVA principal, to dump a bucket of ice water on himself in support of ALS, (Lou Gehrig's disease) and the SVA Alumni Association's Open A Door student aid fund.
Wagner accepted and, after getting drenched, urged viewers to get involved with something like ALS and Open a Door because it is rewarding.
"The Bible says there is great reward for those who give to others, so I challenge you all to get involved," he says.
 Click
here
to see the video of Wagner taking the challenge.
Check out these other videos of the Ice Bucket Challenge: