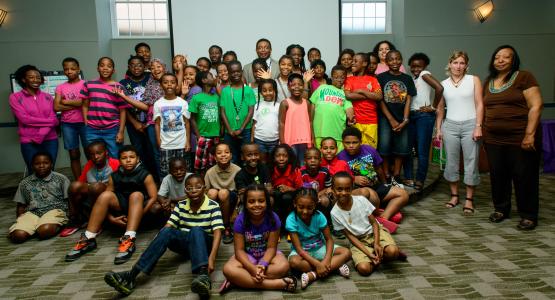 Washington Adventist University Summer Camp Serves Families in Need
July 24, 2014 ∙ by Anonymous ∙ in Education, Washington Adventist University
A summer camp program for about 100 children from low-income families is continuing on WAU's campus through August 10, thanks to a successful collaboration between the university, the city of Takoma Park, Montgomery County and Educare. The Lunch and Learn Summer Day Camp has been a much-needed resource for families that struggle to find affordable summer activities for their children.
Story by Donna Bigler
The summer program gives participants, aged 7-16, an opportunity to rediscover their creativity; improve their social skills in an environment of cooperation and respect; explore new interests; and enhance their quality of life. Exposure to the WAU campus, professors and students also serve to inspire participants to seek higher education.
"It's not enough to tell our youth what to do, we must show them a better way," says Curtis Watkins, summer camp coordinator.
In addition to a $6,000 grant from the city of Takoma Park, sup- port for the summer program includes a $45,000 County Executive Community Grant for performing arts training and soccer camp activities; free lunches each day for participants from Montgomery County Public Schools; and management support for daily opera- tions from Educare, a research-based program that prepares at-risk children for school.