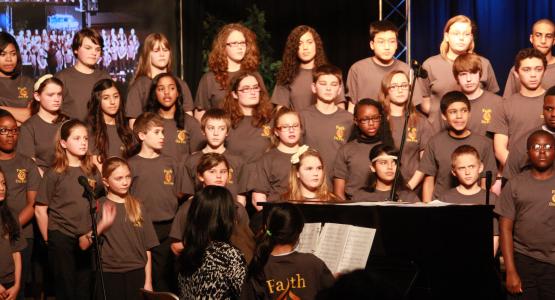 Music Festival Sets Faith on Fire
June 19, 2014 ∙ by Anonymous ∙ in Allegheny West Conference, Education, Ohio Conference
More than 120 fifth- through eighth-graders from Seventh-day Adventist schools across Ohio recently attended the 2014 Ohio Conference Elementary Musical Festival themed "Faith on Fire."
Story by Alison Jobson
More than 120 fifth- through eighth-graders from Seventh-day Adventist schools across Ohio recently attended the 2014 Ohio Conference Elementary Musical Festival themed "Faith on Fire."
The event was held on the campus of Mount Vernon Academy in Mount Vernon and offered activities to help students grow musically, and in their faith.
Kimberly Bulgin, choir director from Spring Valley Academy in Centerville, led the mass choir that powerfully performed five songs. Her brother Jason Bulgin, music teacher and athletic director from Ramah Jr. Academy, an Allegheny West Conference school in Cleveland, was the featured speaker. The siblings shared their innate ability to connect with their students and audiences in an authentic and Christ-centered way.
A highlight of the weekend was when more than 25 typically quiet and shy students volunteered to share their faith through skits, piano and vocal performances during the Friday open mic night.
Mark Mirek, head teacher of the Piqua Elementary School in Piqua, says his students enjoyed being part of the large group and are more involved in their local church because of events like this. "Seeing that they are part of something bigger makes them want to participate in worship activities back at home," he says. "You take something home with you."