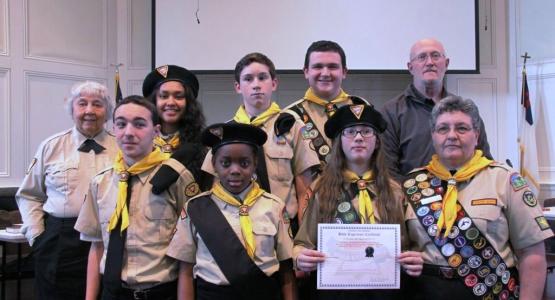 15 Teams Advance to Division Level of the Pathfinder Bible Experience
March 18, 2014 ∙ by Anonymous ∙ in Allegheny East Conference, Chesapeake Conference, Columbia Union News, New Jersey Conference, Ohio Conference, Pennsylvania Conference, Potomac Conference, Uncategorized
Columbia Union team participation in the annual test of Bible knowledge has more than doubled over the past year.
Story by Columbia Union Staff; Photos by Jeff Cooley
A total of 16 teams, representing 12 Pathfinder clubs from six conferences, participated in the March 15 Columbia Union Pathfinder Bible Experience (PBE).  This year's event was held at the Ohio Conference's Worthington church in Worthington, Ohio.
Ohio Conference's Akron crusaders were one of 15 teams to place first in the Columbia Union Pathfinder Bible Achievement.
"I'm excited to say that of the 16 teams who participated, 15 were awarded first place!" shared Pam Scheib, the union's PBE coordinator. "We only had six teams last year and seven teams in 2012, so we've more than doubled!"
The participating clubs were:
Allegheny East–Community Englewood Falcons and Liberty Light Bearers
Chesapeake–Atholton Faith Blazers, Hagerstown Explorers, and Triadelphia Sparks
New Jersey–Englewood Angeles de Israel and Piscataway Eagles
Ohio–Akron Crusaders
Pennsylvania–Wyoming Valley Falcons
Potomac–Beltsville Broncos, CPC Panthers, and Vienna Stars
Pathfinders were asked 90 questions testing their knowledge on the book of II Samuel.   The scoring is based on the club with the highest score.  All clubs that come within 90 percent of that score are given a first place and are eligible to compete in the North American Division PBE being held at the Potomac's Sligo church in Takoma Park, Md., April 12.
The teams that placed first and will advance  to the division level are: the Akron Crusaders, Atholton Faith Blazers, Beltsville Broncos–Amethyst Team, Beltsville Broncos–Emerald Team, Beltsville Broncos–Onyx Team, Beltsville Broncos–Topaz Team, Englewood Angeles de Israel, Englewood Community Falcons, Hagerstown Explorers, Liberty Light Bearers–Team 1, Liberty Light Bearers–Team 2, Piscataway Eagles, Triadelphia Sparks, Vienna Stars–Silver Team and Wyoming Valley Falcons.
Pennsylvania Conference's Wyoming Valley Falcons also placed first.