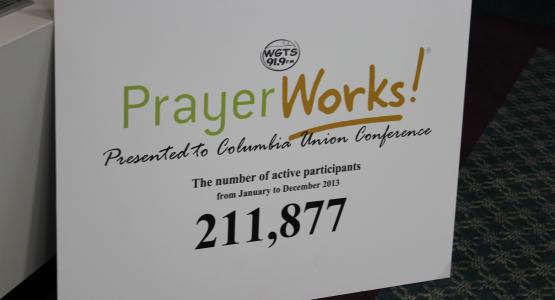 WGTS Now Has the Largest Virtual Prayer Community in the U.S., Chaplaincy Team Reports
March 06, 2014 ∙ by Anonymous ∙ in Washington Adventist University
What started out as a mom-and-pop type call-in prayer line quickly ballooned into a prayer community of hundreds of thousands. 
Story by Taashi Rowe
WGTS 91.9 FM now has the largest virtual prayer community in the United States, according to the chaplaincy team from the Washington Adventist University-owned radio station based in Takoma Park, Md. The team shared the report with the Columbia Union Conference Executive Committee this morning. With 211,877 active participants in their PrayerWorks community, this means that one in 20 people in the Washington, D.C., area contacted the team during 2013 for prayer. The station's prayer program evolved from a call-in line to emails to an online, web-based, virtual community. With funding from the Columbia Union Conference, WGTS purchased the PrayerWorks software, where participants simply post their needs and set up alerts on their phones, which lets them know when someone is praying for them. When WGTS purchased the software, the largest virtual prayer community was in Minnesota with a then-unimaginable 50,000 active participants a year.
Pete Garza, Gateway Fellowship chaplain; Terry Johnsson, WGTS chaplain; Rob Vandeman, WGTS president; Seth Bardu, Columbia Union treasurer; Dave Weigley, Columbia Union president; and Kevin Krueger, WGTS general manager
"Our dream was to have 50,000 prayer requests in the Washington, D.C., area and we would be so thrilled," said Terry Johnsson, the station's chaplain. Team members were shocked when PrayerWorks told them they had more than quadrupled their goal.
When Dave Weigley, Columbia Union president, heard about the software, he jumped at a chance to support the project. "We've been needing this in our union. Just think if we had sold the station in 2007, we would have lost this powerful tool for ministry and influence in our community," he said referring to the 2007 proposal to sell the station's license.
"People in the Department of State, people in the White House, people all around the nation's capitol listen to our station." Kevin Krueger, the station's vice president and general manager, notes that prayer is one of several prongs that the station uses to reach its 600,000-plus listeners, 40 percent of whom are unchurched. "We have a big goal to reach a post-Christian audience in this area for Jesus, and we are always working toward it."
READ MORE ABOUT WGTS
WGTS 91.9 Meets More Than Just Music Needs