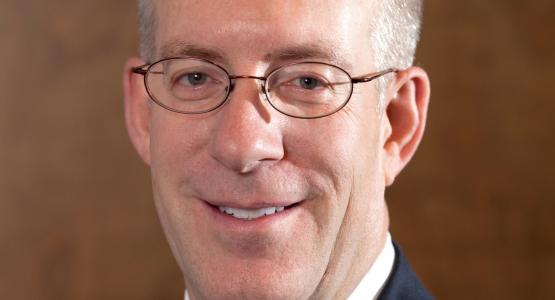 Adventist HealthCare President to Leave After 14 Years of Service
February 24, 2014 ∙ by Anonymous ∙ in Adventist HealthCare, Columbia Union News, Health Systems
Story by Tom Grant
After serving as president and CEO of Adventist HealthCare for 14 years, William G. "Bill" Robertson announced today he will be leaving the Gaithersburg, Md.-based, organization in April. Robertson will become the president and CEO of MultiCare Health System, a not-for-profit based in Washington state. His last day at Adventist HealthCare will be April 4.
William "Bill" G. Robertson, president and CEO of Adventist HealthCare, today announced plans to leave the organization.
"It has been an honor to work with the executives, employees and physicians across Adventist HealthCare who each day demonstrate our mission with their compassionate and high-quality care," Robertson said. "The organization has a very bright future and is well-positioned to be a leader in the state as more of an emphasis is placed on preventive health and wellness."
Dave Weigley, president of the Columbia Union Conference and chairman of the Adventist HealthCare Board of Trustees, announced Robertson's decision to the organization today.
"I want to thank Bill for his years of service to Adventist HealthCare and the community," Weigley said. "I take great comfort in knowing that Bill built an excellent team of executives and leaders who will help me with the selection process for a new president and CEO. More importantly, I know that Adventist HealthCare has a wonderfully talented and committed group of employees and physicians who help the organization fulfill its mission to demonstrate God's care by improving the health of people and communities through a ministry of physical, mental and spiritual healing."
Robertson, 54, was named president and CEO of Adventist HealthCare in April 2000. During his tenure, Adventist HealthCare grew to become the largest provider of healthcare in Montgomery County and one of the largest private employers in the state, with more than 6,200 employees.
Since 2000, the organization has added Adventist Rehabilitation Hospital of Maryland, Adventist Behavioral Health, the Reginald S. Lourie Center for Infants and Young Children, Adventist Medical Group and the Shady Grove Adventist Aquilino Cancer Center. In addition, it has created a number of programs and partnered with community groups to provide services to those most in need in the community. Adventist HealthCare is the largest provider of charity and uncompensated care in the county.
In 2013, its three largest hospitals, Shady Grove Adventist, Washington Adventist and Hackettstown Regional Medical Center, were named Top Performers on Key Quality Measures® by The Joint Commission.
In addition to his work in healthcare, Robertson has been honored for his community and business work and has served on a wide range of community, county and state organizations including: the Governor's Workforce Investment Board, the Montgomery County Chamber of Commerce Board and the Strathmore Hall Foundation Board.