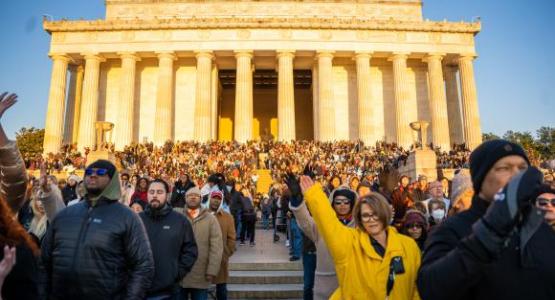 WGTS 91.9 Staff Celebrate Easter at the Lincoln Memorial
April 13, 2023 ∙ by vmbernard ∙ in WGTS
Story by Jerry Woods
Thousands of WGTS 91.9 listeners and people from around the nation made the trek to the steps of the Lincoln Memorial before dawn to celebrate the 43rd annual Easter Sunrise Service on the National Mall. National Community Church sponsored the event, and WGTS partnered with them to get the word out to the community.
Gospel artist Todd Dulaney led the crowd in singing worship songs together. WGTS 91.9 Morning Show Host Jerry Woods and Rear Admiral Douglas Fears offered prayers for the capital city and the nation.  National Community Church Lead Pastor Mark Batterson presented the message. He said if you'd taken bets 2,000 years ago on what would be around today, the Roman Empire or Christianity, the Roman Empire would win all day long. But today, over  2 billion people follow Jesus, and Caesar is just the name of a salad.
 "It was so humbling to sit there in the middle of thousands of people who came together, not for anything political, but simply to lift up the name of the risen Jesus Christ," said WGTS Morning Show Host Jerry Woods.