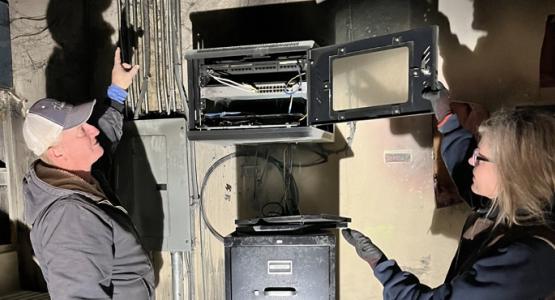 Weathering the Storm at Camp Blue Ridge
March 07, 2023 ∙ by Web Administrator ∙ in Potomac Conference
Story by Debra Anderson
In late December 2022, while most people were preparing recipes for Christmas, staff at Camp Blue Ridge in Montebello, Va., were busy putting out a fire and thawing frozen pipes. The cold that embraced most of the country also affected the camp.
Wind gusts above 50 mph and frigid temperatures caused a power outage throughout the camp that lasted 36 hours. While the base has functioning generators, two machines ran out of fuel after 20 hours. The outage left Town Hall, cabins in the East and West villages, the Bunk House, and the Shop without heat, causing pipes throughout the camp to freeze and water heaters to malfunction.
Town Hall sustained most of the damage due to an electrical fire caused by an exploding frozen water heater, resulting in significant smoke damage to the entire building.
Despite the storm's devastation, there were some apparent blessings: the staff remained safe, and early detection of the fire prevented a total loss of Town Hall.
Ray Queen, camp director, says, "God is filling the staff with energy to ensure camp will be open and fully operational by spring. Camp Blue Ridge remains a place where everyone feels God's presence when they enter."
Julie Minnick, associate camp director, encourages campers to visit campblueridge.org and make early reservations, as space is filling up fast.