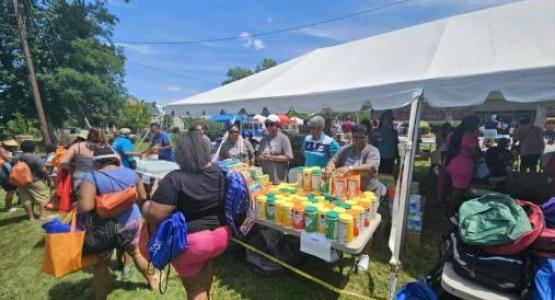 Shiloh Partners With Local Cincinnati Churches for Third Annual 'Day of Blessing'
August 23, 2023 ∙ by vmbernard ∙ in Allegheny West Conference
Story by Tiffany Forde
When Cincinnati Public Schools resumed classes after summer break last week, hundreds of children arrived with backpacks and school supplies, thanks to the 3rd annual "Day of Blessing" Back-to-School event, held at Allegheny West Conference's Shiloh church in the Avondale neighborhood in Cincinnati.
The "Day of Blessing" event began in 2021, when Shiloh's pastoral team thought of a way to help school children get back on their feet after being out of the classroom the previous year due to the COVID-19 pandemic. The idea blossomed, and two other churches—Christ Memorial Baptist and Allen Temple AME—joined the collaboration.  
That first year, the churches pooled resources and garnered sponsorship support to provide school-supply filled backpacks, personal toiletries, hand sanitizer, socks and gift cards for 500 families.
After the event, there were several families who didn't receive supplies, so the organizers knew they had to think bigger and better the following year. 
In 2022, the event supplied backpacks and other items to 800 families. Both years, the event was hosted at the Corinthian Baptist Church in Bond Hill, Ohio.
This year, it was Shiloh's turn to host the "Day of Blessing." Joined by the Corinthian Baptist, Greater New Hope Missionary Baptist, Christ Memorial Baptist and Zion Baptist churches, more than 900 families received backpacks, feminine products, toiletries and gift cards to help families with the upcoming school year. The event also provided attendees with a first aid and health screening table, barbers and hairstylists. Kids enjoyed a bounce house and cotton candy. Kona Ice, a "Day of Blessing" longtime supporter, provided snow cones. Church pastors and members also offered prayer with community members. 
Each year, this event is sponsored chiefly by United Way—who provides the backpacks and school supplies—and the Cincinnati-Hamilton chapter of the Community Action Agency. Other flagship sponsors include the Walker Funeral Home, Cincinnati Children's Hospital Medical Center, Mercy Health, and the Alpha Kappa Alpha and Delta Sigma Theta sororities.
Shiloh and Corinthian Baptist plan to grow their partnership to impact Cincinnati communities and provide free resources to as many families as possible.