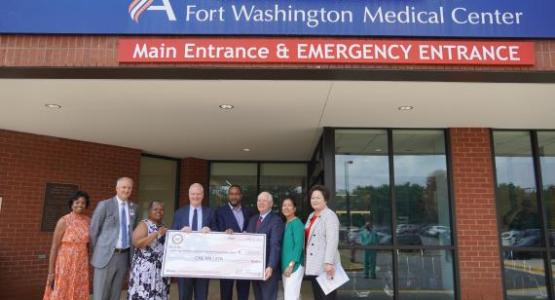 Senators Cardin, Van Hollen Present $1 Million in Funding to Adventist HealthCare Fort Washington Medical Center to Combat Diabetes
July 26, 2023 ∙ by vmbernard ∙ in Adventist HealthCare
Story by Adventist HealthCare Staff
U.S. Sens. Ben Cardin and Chris Van Hollen visited Adventist HealthCare Fort Washington Medical Center on Tuesday, June 20, 2023, to deliver a $1 million check – funds dedicated to supporting the hospital's Cardiovascular Center for Diabetic Patients.
The funding, which was secured by Congressman Steny Hoyer in fiscal year 2023 appropriations, will finance several components of the facility, including a diabetic clinic, the Diabetic Education and Resource Center, a diabetes related vascular screening center, the Wound Care and Hyperbaric Oxygen Center, and a cardiovascular clinic.
Joining Cardin and Van Hollen at the hospital visit were Prince George's County state Sen. C. Anthony Muse, Del. Kris Valderrama, and Del. Jamila J. Woods. Each lauded the funding and discussed a need to improve overall healthcare in the southwestern portion of the county.
"Adventist HealthCare is extremely grateful to receive this sum, as it will position the hospital to better care for our neighbors in Fort Washington, as well as attract the best and brightest doctors and nurses," said Eunmee Shim, President of Adventist HealthCare Fort Washington Medical Center. "Many of the residents we serve lack sufficient access to healthcare specialists who can effectively manage the progression of diabetes. This funding will aid in educating and managing patients who are diabetic and pre-diabetic and will prevent many from having to lose a limb or deal with a loss of vision."
In 2019, the Prince George's County Department of Health reported approximately 20.7% of adults between the ages of 45 and 64 live with diabetes. That figure increases to 33.2% for adults over 65. Yet the southwestern area of Prince George's County, where approximately 350,000 residents live, lacks adequate care. This disconnect among disease prevalence and healthcare resources is resulting in a lethal medical desert that may lead to declines in healthcare outcomes over time.
The funding will provide comprehensive care to patients in southwestern Prince George's County, improve public health, and avoid unnecessary hospitalizations.
About Adventist HealthCare Fort Washington Medical Center
Part of the Adventist HealthCare system, and recognized for excellence in patient safety, Fort Washington Medical Center is an acute care hospital in Prince George's County, Maryland. The hospital serves patients in the Fort Washington, Oxon Hill, and Temple Hills areas, as well as parts of southeast Washington, D.C. The hospital provides general inpatient services including adult medical and surgical care, ambulatory surgical services, laboratory, radiology and diagnostic services, as well as bariatric, cardiovascular, gastrointestinal, orthopaedic, rehabilitation and respiratory therapy. The hospital operates one of the busiest emergency rooms in the metropolitan area and has over 400 employees.