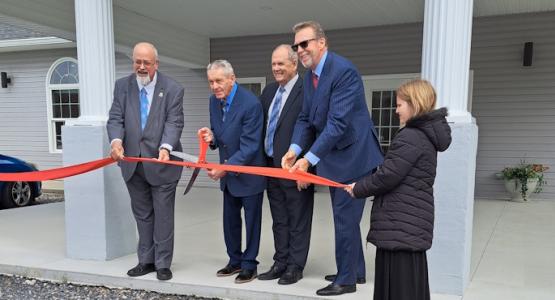 Doors Are Opened at Cumberland Church
July 31, 2023 ∙ by Web Administrator ∙ in Mountain View Conference
Story by Elaine Buchanan
The Cumberland (Md.) church started a building project in 2014. With the goal to be debt-free, they only moved on the project as money was received. When Pastor Jim Buchanan arrived in the district in 2017, there was still just a shell of a building after three years. The members began praying earnestly, and the money started coming. Church member Gary Kasekamp even raised money by taking a bike trip across the country, while others faithfully and sacrificially gave month after month.
There were many obstacles along the way. A windstorm blew the roof off in November 2018 and new building codes kept them from moving forward more quickly. Finally, on December 25, 2021, the congregation received the occupancy permit to begin worshipping inside.
Much more work needed to be done, but Cumberland leaders set a church dedication date for March 11, 2023. It was a grand celebration and a long-awaited event. Many friends attended from across the conference and Columbia Union, including Tim Bailey, Mountain View Conference (MVC) president, and Dave Weigley, Columbia Union president. Buchanan opened the ceremony with a short sermon, followed by an afternoon of food and music.
The ribbon-cutting ceremony was the highlight of the afternoon for many members. Oldest member Ron Higson and youngest member Annalee Mellotte held opposite ends of the ribbon while it was cut.
The following Sunday, the congregation held an open house so that the community could come and tour the new church. Members showed the building project video, and some neighbors later came and shared a meal. The local mayor also attended and was quite impressed with their community outreach plans. The next day, the church ran a diabetes screening and healthy vegetarian cooking class on its grounds.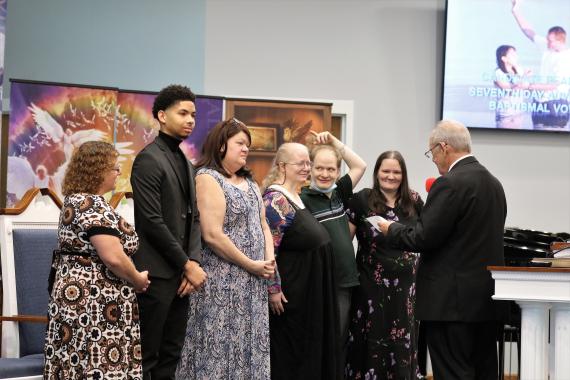 The following Friday night, they started an evangelistic meeting with MVC evangelist Stewart Pepper. Many church and community members came to hear the gospel message preached every night and made decisions to follow Jesus. An average of 22–32 non-members attended nightly.
Cumberland church was blessed with six people who gave their hearts to Jesus through baptism. Many members agree that with God's blessings, they will continue to grow and be an asset in their community.