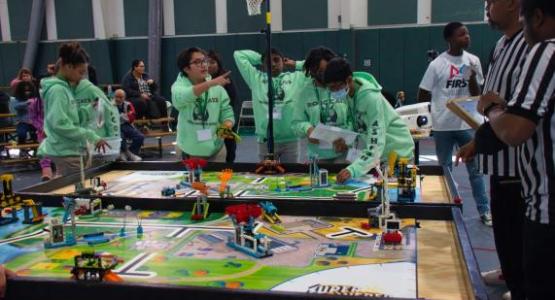 Beltsville Robocats Win Robotics Championship
May 25, 2023 ∙ by vmbernard ∙ in Potomac Conference, Education
Story by Debra Anderson
The FIRST® LEGO® League Challenge is a competition for students grades 4–8 where they learn the principles of STEM as well as how to work together.
Recently, the Beltsville Adventist School's (BAS) Robocats club in Beltsville, Md., seized victory by earning the FIRST LEGO League Champion's Award at the Adventist Robotics Mid-Atlantic Region Qualifying Tournament.
Four other teams from the Columbia and Atlantic unions joined the Robocats at the tournament, held on the campus of Allegheny East Conference's Pine Forge Academy (Pa.).
With their victory, the Robocats earned an invitation to attend the championship tournament in Florida this spring with other qualifying Adventist robotics teams from around the North American Division.
The Robocats Club formed in late November 2022 after Jerson Malaguit, principal of BAS, and Krysten Thomas, the Beltsville (Md.) church's youth pastor and team coach, collaborated to revive the school's robotics program. Recognizing they were well behind the typical timeline of getting a competing team ready for the contest, they mapped out an ambitious plan to get the six-member after- school club mobilized, meeting and practicing in earnest in January 2023. The students had only six weeks to prepare for the competition, yet they were undaunted by the challenge.
"It's remarkable what good coaching and resilient students can accomplish, no matter the time frame," says Malaguit. "One of the hallmarks of STEM is systematic troubleshooting and collaboration, and these students were able to accomplish this big task by breaking it down into logical steps."
Part of the tournament involves having teams send their self-designed robots through an obstacle course to complete different missions. The Robocats confessed to being very stressed in the week leading up to the event. Last-minute modifications and programming issues added to the stress, and codes for the robot weren't working the week leading up to the tournament. The team finally had a breakthrough by creating a separate code for each of the missions.
While robot design and coding are a popular and perhaps more well-known feature of the program, students are also tasked with designing an Innovation Project to research, design and find a solution to a thematic problem. This year's Innovation Project tackled the issue of creating more efficient methods for transferring energy. For the Robocats, this element of the competition became a source of strength.
"The presentation of our Innovation Project went really well, and it was a great encouragement for us at the very beginning of the tournament," says team member Maegan Whitlock, an eighth grader.
Team member Eduardo Rojas, also in the eighth grade, invites others to get into Adventist robotic competitions, with a thoughtful advice: "Don't underestimate other teams, but also don't underestimate yourself."