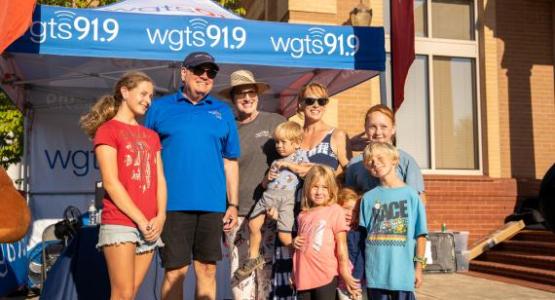 WGTS Concludes 91 Days of Summer with Concert and Ice Cream
September 21, 2022 ∙ by vmbernard ∙ in WGTS
Story by Tom Ozio
WGTS 91.9 wrapped up their 2022 summer concert series and ice cream tour on Sept. 9 with an outdoor performance from Christian music singer Riley Clemmons. WGTS hosted about 1,000 listeners behind the town hall in La Plata, Md. Those in attendance enjoyed free ice cream, station prizes, and opportunities to interact with the WGTS crew. Afternoon hosts Johnny and Stacey Stone broadcasted live on location where they played on-air Bible trivia games and greeted new and longtime listeners.
"I will always remember the sweet families we met! You never realize the impact God has on these families through WGTS until you meet them face to face," said Johnny Stone, afternoon host for WGTS 91.9. "God is so good!"
The mayor of La Plata, Jeannine James, was also in attendance. "I am honored that Riley shared her spiritual talent and gifts with the WGTS listening audience in our hometown.  It was indeed a beautiful and inspirational evening!"
WGTS toured the Washington, D.C. area all summer long as part of the "91 Days of Summer" to engage and encourage listeners by serving free ice cream and creating long lasting memories with live broadcasts and concerts.