New High School Wing Dedicated
December 06, 2022 ∙ by Web Administrator ∙ in Ohio Conference, Education
Story by Vicki Swetnam
Spring Valley Academy (SVA) recently held a ribbon cutting and dedication ceremony for the Dean and Trudy Johnson High School Wing. Hundreds of SVA families, friends and community members attended the ceremony, recognizing major donors and the sacrificial generosity of the first donors who founded SVA.
After the ribbon was cut, the crowd streamed into the new space, and groups of parents, teachers and community members spent time in prayer, asking for God's blessing on the school year and His presence in the lives and hearts of the students who will learn within the new facility.
The high school addition adds 15,000 square feet to the existing campus and includes six new classrooms that open onto a large atrium with plenty of space for studying, small groups and other gatherings. There is also an activity room with ping-pong tables and a spacious patio.
Construction was completed within a year, a seemingly remarkable feat for a facility of its size and scope.
"It's an absolute miracle," says Darren Wilkins, SVA's principal. "At every turn, this project has shown us God's leading. We've been blessed!"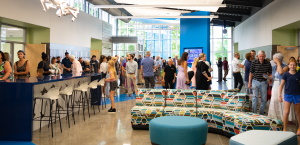 While the building may be completed, fundraising for the new space has not. The urgent need for more space, partly due to the record-high enrollment of 515, means that construction began before fundraising was complete. Another $1.25 million still needs to be raised.
"We hope to get that done quickly," adds Wilkins. "God has big things planned for SVA. We don't want to get in His way!"
For more information or to support the project, please contact Angie Peach at (937) 433-0790.