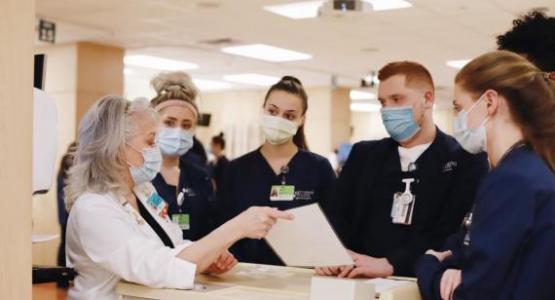 New Accelerated BSN Track Means Students Can Complete Their Degree in 15 Months
February 07, 2022 ∙ by vmbernard ∙ in UpFront, Kettering College, Education
Story by Courtney Dove
Kettering College is offering a new, Accelerated Bachelor of Science in Nursing (A-BSN) track beginning in Fall 2022 that allows students to complete their degree in four semesters. The full-time, 15-month track is ideal for college graduates seeking a career change.
"Our A-BSN will be delivered in two seven-week sessions for four consecutive semesters and feature the same curriculum as our other BSN tracks," says Paula Reams, RN, PhD, dean of nursing at Kettering College. "It's an intensive course of study with classes and clinicals that will keep students very busy six days a week—so busy that we advise not having a job outside their schooling. The payoff is that students earn a BSN degree very quickly, in what we expect will continue to be a very hot job market for nurses."
The college is expanding its faculty, staff, and classroom/study spaces to accommodate 32 A-BSN students per year. Academic advisors will provide coaching and support to ensure students stay on target with their coursework and receive the support they need to complete the program.
Kettering College, located on the main campus of Kettering Health Main Campus, has been preparing men and women to be nurses since 1967. The accelerated BSN is one of several nursing tracks at the college and part of a strategic plan to double the number of students in the school's nursing program to about 250. In addition to helping address a widespread nursing shortage, this expansion will increase the pool of well-qualified job candidates for nursing positions at Kettering Health.
"The college has long been a pipeline for employment at Kettering Health," says Jennifer Schull, MHA, BSN, RN, executive vice president and chief nursing officer at Kettering Health. "We hire hundreds of nurses a year at our 13 hospitals and outpatient centers, and in 2021 more than half of them were new Kettering College nursing graduates. We will always have employment opportunities for Kettering College grads who share our spirit of service."
Applicants to the A-BSN track must have a bachelor's degree (any major) and have completed six prerequisites, including pathophysiology, statistics, developmental psychology, chemistry, microbiology (with a lab), and anatomy & physiology I and II (both with a biology lab). Students enter the program with 56 credits for the previous bachelor's degree and prerequisites and earn an additional 69 credits through classes, labs, and hands-on clinical rotations.
Tuition will be the same as for other BSN tracks at Kettering College (Visit KC.edu/tuition). The school's financial aid counselors are available to help prospective students identify loan, scholarship, and grant opportunities.
To learn more about the Kettering College nursing program, view admission requirements, or submit an application, visit kc.edu/A-BSN.