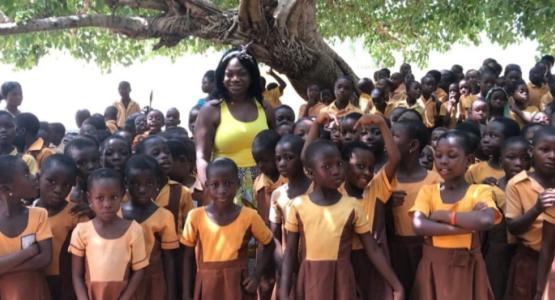 December 06, 2022 ∙ by Web Administrator ∙ in New Jersey Conference, Education
Story by Ashley Boggess
Gigi Darko wanted to do something different for her 40th birthday—something that would give back to the community. In 2019, Darko (pictured, in yellow) and 10 of her family members, including her Ghanaian-born husband and two daughters, flew to Ghana to share books and school supplies with children in need.
Darko's goal of 40 supplies for 40 children, celebrating her 40 years of life, quickly expanded as the Lake Nelson and University Heights churches in New Jersey learned of her project. As generous donations poured in for them to serve four churches in four different communities, the Darko family realized they could serve more than 1,560 students, including 61 orphans.
When they arrived in Ghana, Darko says, "We met so many beautiful children. Everywhere we went, we were welcomed with cheers and gratitude—not for food but for books. Their level of gratitude was overwhelming. Even the village leaders were in tears."
Darko's daughters Gianna and Tessia are students at Lake Nelson Adventist Academy (LNAA). As they visited the four schools, the girls wore their school uniforms to show the children that even small kids can be a blessing to others.
"When we came back home," she says, "all I could think about were the children and how I could get more books to them."
An idea began to formulate in her mind. What if she could build a library for the Ghanaian children? She didn't want to ask for charity, so she began writing books about the COVID-19 pandemic and about children. She later started her own publishing company, Notes Publishers, with all book sale proceeds going toward building the Legacy Library in Ghana. LNAA and the LNAA Student Association donated pencil boxes filled with pencils, erasers, sharpeners, crayons, markers, pens and glue sticks.
In the fall of 2021, Gigi's husband, Teddy, and an architect drafted building plans. After plan approval, the Darko family began raising funds for construction. Three generous investors matched the funds Gigi raised through her book sales, and they had enough to begin the project. In addition, Gigi received $15,000 worth of books for the library.
Little by little, Teddy bought building supplies and hired local contractors. Finally, in late spring of 2022, the Darkos gathered village leaders together for a groundbreaking ceremony, praising God for the future library and the solid foundation that had already been laid.
Gigi says, "It is only by the grace of God that we were able to build the first stand-alone library in a public elementary school in the city of Kpando, Ghana."
They anticipate to hold a ribbon cutting and dedication service for the library in July 2023.