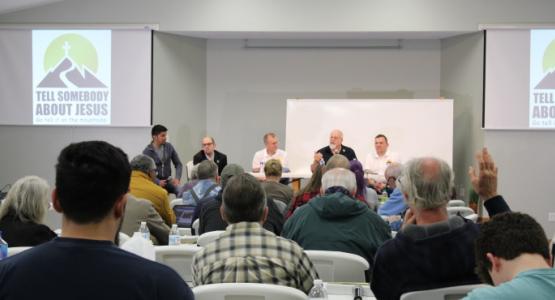 Lay Bible Workers on Fire for God
August 15, 2022 ∙ by Web Administrator ∙ in Mountain View Conference
Story by Megan L. Garcia
In late spring, the Mountain View Conference (MVC) hosted its first annual Lay Bible Worker Training at Valley Vista Adventist Center in Huttonsville, W.Va. The purpose of the training was to encourage Total Member Involvement. But what attendees didn't know was that their lives would be changed in the process!
"I was pleading with God in my prayers, as were many others involved, for at least 40 people to come to this event," explains Tony Garcia, lead Bible instructor for the MVC. "With only a few weeks left, there were just 14 people signed up. However, it was in those last two weeks that we saw the numbers jump from 14 to 82! God blessed this event beyond what we expected!"
Jesse Beamer, a new member of Crossroads Fellowship—a church plant in New Martinsville, W.Va.—says, "I went there just wanting to learn to give Bible studies, but when I left, I not only wanted to 'set my church on fire,' but I also gained a family and a feeling of acceptance."
Offering classes such as Ministering to Broken People, the Everlasting Gospel, Answering the Tough Questions, and more, the training powerfully prepared its attendees—a mix of pastors and lay workers—to "tell somebody about Jesus." Presenters included MVC pastors, along with guest speakers John Kent from the Pennsylvania Conference and Angel Rodriguez from the Ohio Conference.
Throughout the training, attendees shared their excitement about returning home to witness in their communities and help their churches grow. Dawn Wadsworth, a member of the Boulevard church in Charleston, W.Va., felt especially blessed, exclaiming, "I was privileged to attend a week of training and to be of service to others. It was amazing! I learned so much, drew closer to God and learned that I could tell somebody about Jesus. It was literally life-changing!"
One crucial class at the training was Gaining Decisions for Christ because many attendees expressed a lack of confidence in obtaining commitments. This class not only gave them proper tools but empowered them to win souls for Jesus.
"I have learned how to give Bible studies, and I am now able to lead my Thursday Bible study to make decisions for Jesus," remarks Tim Stone, also a Boulevard church member.
The training created 64 newly equipped and powerful lay Bible workers across the region. Tim Bailey, conference president, sums it up perfectly: "Mountain View Conference members are on the move! Our 82 attendees from across the conference came motivated to work for the Savior and left even more on fire to tell somebody about Jesus!"