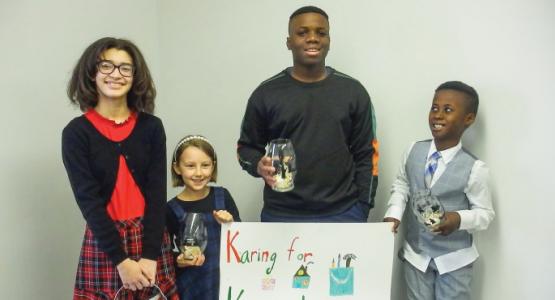 Hamilton Youth 'Kare for Kentucky'
March 16, 2022 ∙ by Web Administrator ∙ in Ohio Conference
Story by Kasper Haughton Jr
In December, a catastrophic storm system ripped through the Midwest, with tornadoes devastating cities and homes in Kentucky. The next morning, across the Ohio River at the Hamilton church, youth gathered for Sabbath School and reflected on the tragedy.
The crisis hit close to home, and they wondered how they might help their neighbors to the south. The idea to hold a fundraiser the next day soon emerged from their discussions. That is when "Karing for Kentucky" began!
The church youth were excited to help. The class had already been working on nativity candles to present to the church on Christmas Day, but with a little change in plans, this project turned into a fundraiser.
The youth left Sabbath School and went up front during the church service to invite the congregation to participate in "Karing for Kentucky." They invited members to return later with their donations, and, in exchange, the youth would present them with a nativity candle, a Merry Christmas wish, a cup of hot chocolate and a Christmas cookie to go.
The kids eagerly served those who stopped by. Mary Evans, 95, and a longtime member of the Hamilton church, supported the youth. She shares, "It is wonderful that the kids are involved in helping where there is a need. I believe it is so important that children build a character of giving and kindness. I have been so blessed, and I support the church missions however I can."
After a couple weeks of fundraising, the youth met on the first Sabbath of 2022 and shared their fundraising total with the congregation. All together, the students raised $1,800 in donations for Adventist Community Services disaster relief efforts!
Parent Teresa Marshall-Lett shares, "It filled my heart with joy and hope to see my daughter and the other children participating in the fundraiser and displaying God's love and caring for those in need."
Kelly Wendth, Hamilton church member and Children's Ministry leader, says, "We are grateful to the church for supporting the kids in their efforts to raise funds. Most importantly, we are in awe of how God blessed our efforts to help, by allowing us to raise an amount that surpassed all our expectations."