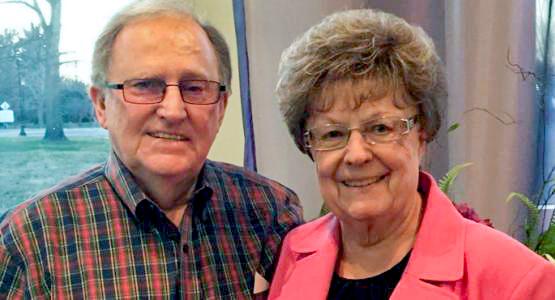 Donald J. Russell, Sr., Former Columbia Union Treasurer, Passes Away
April 28, 2022 ∙ by kcoe ∙ in UpFront, Columbia Union News, Chesapeake Conference, This Month's Issue
Donald J. Russell, Sr., former treasurer of the Columbia Union Conference, passed away Thursday, April 28, 2022. He was 90 years old and a member of Chesapeake Conference's Spencerville church in Silver Spring, Md.
Russell graduated with a degree in business from Washington Adventist University (then Columbia Union College) in Takoma Park, Md. During his 43-year long career, he worked as the assistant manager of the General Conference Mission Board, treasurer of the Greater New York and Southern New England conferences, and in the Treasury Department of the Chesapeake Conference. He retired from the Columbia Union in 1996 after serving as treasurer for 19 years.
While at the Columbia Union, Russell also served on the Adventist HealthCare and Washington Adventist University boards. He was dedicated to supporting and growing the mission through sound financial decisions.
"Elder Russell was a great visionary treasurer who helped grow the Columbia Union Revolving Fund (CURF) from a $2 million fund to now over $200 million—to provide low-cost capital financing for churches, schools and entities within Columbia Union. Several churches were able to purchase or renovate their church buildings because of the work that he did," says Emmanuel Asiedu, Columbia Union treasurer. "He was a kind man with a winsome personality and was a dedicated and committed Christian that laid a strong financial foundation for the union."
Condolences and memories of Russell poured in on the Columbia Union Visitor Facebook page, including former co-workers from the union:
Hamlet Canosa, retired vice president for Education at the union, who also worked with Russell in the Southern New England Conference, said, "He was a giant in his work, a wonderful Christian leader in every respect."
Henry Wright, retired pastor and former union executive secretary who served with Russell from 1987–1992, said it was a pleasure working with Russell and Ron Wisbey, the Columbia Union president at the time. "I will treasure the calm administration of Don, along with the able leadership of Ron," he added.
Peggy Lee, retired secretary/director of CURF, shared her deepest sympathy to the entire family. Russell was "one of the finest Christians I have ever known and the father of exceptional Christian children. He was a real inspiration," she said. "He hired me as secretary many years ago and was largely responsible for starting the Columbia Union Revolving Fund."
Russell is survived by Arlene L. Russell, his wife of seven years; his children Richard D. Russell, Kathy J. Russell (Comeau), Jerry S. Russell, Donald J. Russell, Jr.; and 10 grandchildren. His first wife, Elsie, predeceased him in 2014.
The Visitor staff will share the memorial service information when it becomes available.