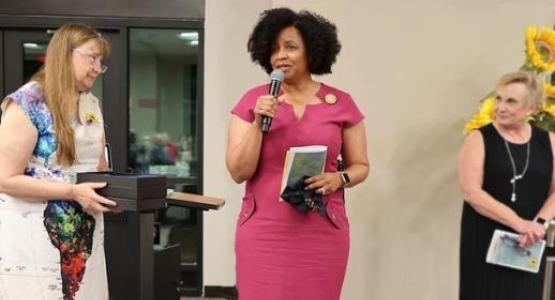 Carmela Monk Crawford Honored by Association of Adventist Women
November 30, 2022 ∙ by vmbernard ∙ in Columbia Union News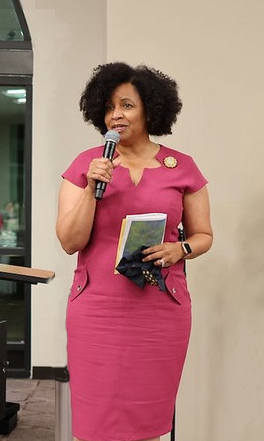 Story by Priscilla Walters
Message Magazine editor Carmela Monk Crawford, a long-time Columbia Union Conference member, was recently awarded a Woman of the Year award by the Association of Adventist Women at their 40th Annual Banquet in Loma Linda, California. 
Monk Crawford received the Outstanding Achievement Woman of the Year Award.
A feature writer, reporter, and radio host, Monk Crawford is driven by the work of advocacy.  Inspired by the legacy of historic activist journalists such as Ida B. Wells Barnett, she found her niche in the dramatic stories of the human condition.  In her law practice, Monk Crawford advocated for children and families caught in destructive cycles of abuse and neglect. She was honored with citations and awards for her pro bono work, and work to defend children in the juvenile justice system.
Then, Monk Crawford answered the call to return to Message Magazine and reframe the 120-year-old ministry for the new millennium. Monk Crawford is the first woman, and the first lay member to be editor of Message. She prizes her conversations and interviews with the late congressman and civil rights icon and activist John Lewis, Equal Justice Institute CEO Bryan Stevenson, and Barry Black, Chaplain of the United States Senate. 
Other AAW woman of the year award recipients include nutrition advocate Judy Lello, a longtime literature evangelist; Sylvia Klinger, D.B.A, of Illinois; podcaster Pastor Nandi Fleming, of South Africa, advocate for better education for the world's impoverished children; Margaret Solomon, Ph.D., La Sierra University/India; child psychiatrist and health advocate Verna Alva, M.D., M.P.H. of Peru; and Pastor Randy Roberts of Loma Linda, Champion of Justice.
The Association of Adventist Women seeks to advocate for the participation of women in all leadership roles in Seventh-day Adventist organizations, congregations, and communities around the world. Their website, AssociationofAdventistwomen.com, has devotionals, theological support for women in leadership and links to past conferences on domestic abuse, social justice, and support for women pastors.