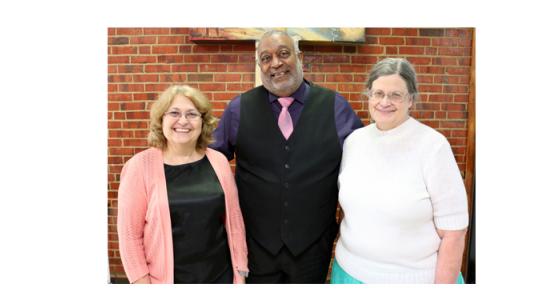 'The Big Three' Retire From Takoma Academy
August 03, 2022 ∙ by vmbernard ∙ in Potomac Conference, Education
Story by Salena Fitzgerald
Three beloved and accomplished Takoma Academy (TA) staff members retired at the end of the 2021–22 academic year.
C. Dunbar Henri received his Master of Divinity from the Seventh-day Adventist Theological Seminary (Mich.) in 1983. After 18 months of singing and traveling with the Heritage Singers out of Placerville, Calif., he pastored three churches in Maryland from 1983–1986 before joining TA's staff full-time.
During the last 37 years, Henri has served as a Bible teacher and administrator, including two stints as TA principal from 1995–1997 and 2005–2009. During his first stint, he became the first black princi- pal to serve at TA. He also served as vice principal.
"The relationships I have cultivated with students is key. I will miss having students come back and share how I helped them in various ways," Henri says. "Having the opportunity to ... give some Bible studies followed by baptizing them, all means so much." On the other hand, Henri eagerly states, "I am happy I am done ... 37 years here at TA. I am excited to travel more with my wife."
Henri and Deborah have been married for 42 years. Their adult children, Cara Henri Wright ('01) and Christopher Henri ('05), graduated from TA.
Thirty-seven years ago, Lou Anne Wood moved from Michigan to Maryland to join the TA staff.
A social studies teacher who also served as the school librarian, Wood caps a 45-year career. Exactly at the time technology changed the role for school librarians, her teaching time increased at TA to the point she eventually took on a full-time teaching load.
"I have loved my time here at TA. The students and staff have become part of my family," Wood says. Woods' retirement plans include moving from
the area and buying property in another state with family members.
After a dozen years on staff, it's clear that TA has earned a place in Nora Ramos' heart. She chokes a bit when thinking about moving on from her position as Spanish teacher, which she has held since 2010. "I will miss all of the students and the teachers," she said, shortly before tearing up.
Ramos also speaks fondly of John Nevins Andrews (JNA) School in Takoma Park, Md., where she taught music. In July 2017, JNA merged with Sligo Adventist School to form Takoma Academy Preparatory School. Her children, Carolina Ramos ('99), Ruben Ramos Jr. ('01) and Valeria Ramos ('04), all attended JNA and graduated from TA.
In Argentina, Nora met her future husband, Rubén A. Ramos, who currently serves as vice president of Multilingual Ministries for the Columbia Union Conference.
Nora says, "For the next how many years I plan to teach private piano and Spanish lessons, travel with my husband of 42 years, spend more time with my mother, children and eight grandchildren, and volunteer in community service."
Staff and faculty thank "the big three" for their love, dedication, wisdom and commitment to TA!