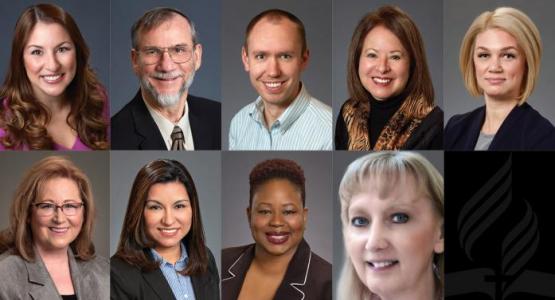 Union Appoints Department Leaders for 2021-26 Quinquennium
September 16, 2021 ∙ by vmbernard ∙ in Columbia Union News
At the Columbia Union Conference Executive Committee meeting today, members voted to return and/or promote appointees in the Communication, Education, Information Technology and Treasury departments.
Kelly Butler Coe was promoted from associate director to director of Communication Services. Coe, who earned a Bachelor of Science with a concentration in graphic design, photography and technology, has served at the union since 2000, principally as brand identity manager, art director and graphic designer for the Columbia Union. Over the years, her role has grown, and now includes production management, as well as oversight of three union websites, the union's app and a variety of communication projects. Moving forward, she will also pursue new technology development and implementation.  
"Kelly's strong organizational skills, coupled with her desire to see our Church embrace technology and engage younger generations, will help us move forward effectively in the post-pandemic, digital-first world," says Celeste Ryan Blyden, union vice president for Strategic Communication. 
Coe says she's excited about the opportunity. "New methods for sharing news are constantly being crafted. It's challenging to continue to produce quality work while learning and implementing new technology. But I believe that it's imperative to adapt and grow in order to stay relevant and reach people where they are," she says.
Blyden will continue to provide oversight to the department and serve as editor and publisher of the Visitor magazine.
Reappointments
In Information Technology Services, Harold Greene, who has served as director for the past 19 years, was reappointed, and Greg Iverson was reappointed as associate director.
In Education, Ileana Espinosa was reappointed associate director for elementary education; Alison Jobson, associate director for early childhood education; and Jacqueline Messenger, associate director for secondary education.
In Treasury, Tabita Martinez was reappointed undertreasurer; Jane Cermak-Faver, as associate treasurer; and H. Candace Nurse, who serves as secretary/treasurer for the Columbia Union Revolving Fund, as associate treasurer.
All of the leaders bring a special set of great skills to their departments, each advancing mission in very important ways, says Rick Remmers, executive secretary.