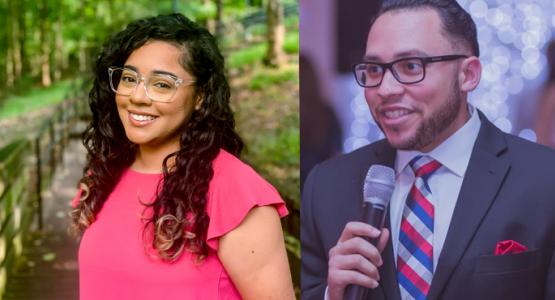 Takoma Academy Welcomes New Art and Bible Teachers
May 13, 2021 ∙ by vmbernard ∙ in Potomac Conference, Education
Story by Salenda Fitzgerald
Emily Lopez ('12), Takoma Academy's (TA) new art teacher, was born in Takoma Park, Md., at Washington Adventist Hospital. She began her Christian education at the John Nevins Andrews School, continuing at the Sligo Adventist School (now Takoma Academy Preparatory School) and finished high school at TA.
Lopez attended Southern Adventist University (SAU) in Collegedale, Tenn. There, God led her to pursue a career in graphic design. At SAU, when she wasn't working on art projects, she often spent time in nature and exploring food spots in Chattanooga. After graduating in 2016, she moved home and began her creative career working at a local radio station in Washington, D.C. She served as the graphic designer and sales assistant for a few years before freelancing full time.
Lopez's life goal is to share her talents and inspire others to use their artistic gifts. In 2020, amid the global pandemic, God blessed her with the opportunity to pursue that goal when her alma mater invited her to teach art. Lopez states, "I have enjoyed witnessing my students pushing their artistic boundaries and becoming more confident in themselves as artists."
In her spare time, Lopez enjoys reading, hiking with her dog and spending time with family and friends. Some of her hobbies include DIY projects and watching documentaries.
Robert Machado was born in Manhattan, New York City to a Brazilian family. When he was five, his
family moved to Maryland. Machado attended both public and private schools, until he transferred to Spencerville Adventist Academy his junior year. While there, Machado fully committed his life to Jesus.
After graduating in 2008, the decision to follow Jesus led him to study theology at Washington Adventist University ('13) in Takoma Park, Md., where he served as chaplain, student dean, yearbook editor and Religion Department secretary. He was also invited to become a member of the Omicron Delta Kappa fellowship. Machado pursued his Master of Divinity degree at the Seventh-day Adventist Theological Seminary in Berrien Springs, Mich., where he served as chaplain and a Campus Ministries secretary, receiving the Service Leadership Award.
After his graduation in 2017, he served as a lay pastor at the Capital Brazilian Temple in Highland, Md., working with the Brazilian community— specifically with youth. When he was invited to teach Bible at TA, he could not refuse.
"There is an amazing opportunity to change the world when we start empowering our youth for Jesus," Machado says. "So if I am given the opportunity to journey with young people and teach them the Jesus I know, how could I not want to be a part of that?"
In Machado's spare time, he continues to preach and teach all over the world. When he isn't ministering, you can find him in the kitchen, on the soccer field or walking his dogs.