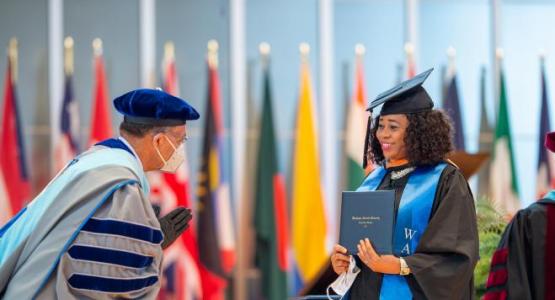 Supporting the Mission: Washington Adventist University
May 03, 2021 ∙ by vmbernard ∙ in Columbia Union News, Washington Adventist University, This Month's Issue
Under the leadership of President Weymouth Spence, Washington Adventist University (WAU) expanded service to students and constituents over the past five years, including the opening of the Gail S. & Bruce E. Boyer Health Professions and Wellness Center and launching new programs such as the Bachelor of Music in Music Therapy and the Master of Education in School Counseling. WAU enjoys an educational partnership with Adventist HealthCare that allows for training opportunities, student scholarships, preferred employment opportunities for graduates and an inaugural endowed nursing chair to address nursing shortages. WAU students and alumni were recruited in 2020 to serve as essential workers to provide acute care in nursing and other health professions.
As a part of Vision 2030: Distinctive Excellence in Student Success, the university will purchase the former Washington Adventist Hospital site with plans for development. The new Honors College provides a Model United Nations global-advocacy expe- rience, as students prepare for leadership and service.
During the pandemic, WAU continued to serve its student population through hybrid and virtual classes, worship services, music performances and other relationship-rich events.