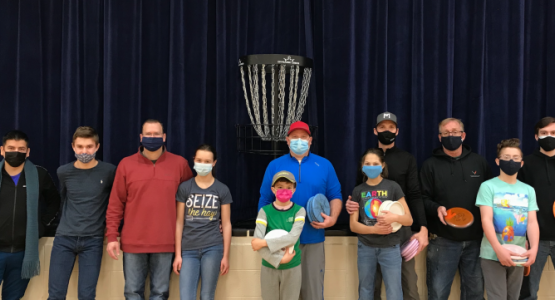 Spring Valley Academy Students 'Disc Golf' Through Pandemic
April 21, 2021 ∙ by rbacchus ∙ in Coronavirus Pandemic, Ohio Conference, Education
Story by Vicki Swetnam
During the COVID-19 pandemic, the sport of disc golf exploded. Needing an escape from quarantine disc golf provides an opportunity to get fresh air and exercise all while social distancing.
Cold weather often spells the end of disc golf, but Ohio Conference's Spring Valley Academy, located in Centerville, kept the sport alive by hosting a six-week putting league in conjunction with disc golf manufacturer Dynamic Discs. Using a universal set of rules, students were able to see how they stacked up against competitors worldwide. Stats were collected on a UDisc app, and a running global leaderboard was updated each week.
League organizer Donald Huff, SVA band director, plans to host a disc golf tournament in May as a fundraiser for the Band Department. "Keep throwin' those discs" is his motto as they prepare for the tournament.