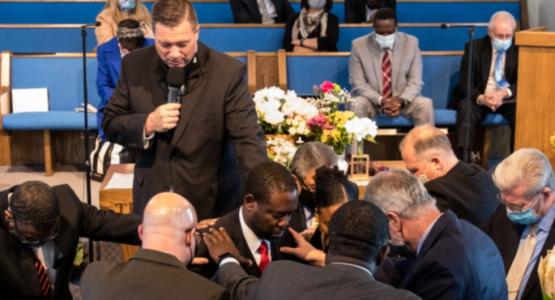 Ordination Ceremony in Ohio Recognizes Beavercreek Pastor
May 26, 2021 ∙ by Web Administrator ∙ in Ohio Conference
Story by Kasper Haughton Jr.
Members of Beavercreek church, Ohio Conference executives and fellow pastors from across the state recently gathered for a special ordination service recognizing God's ministry call on Delthony L. Gordon's life.
Throughout his ministry in the Seventh-day Adventist Church, Gordon has served as a teacher, guidance counselor, evangelist, lay pastor, academy chaplain and full-time pastor. He has served in the Bahamas, Jamaica, Oklahoma and now at the Ohio Conference as the senior pastor of Beavercreek.
The service featured members, mentors and fellow colleagues relating words of affirmation and encouragement for their pastor. During the service, conference President Bob Cundiff shared these words: "Never lose sight of our mission, of having an everlasting gospel to preach to every nation, tribe, tongue, and people. ... I welcome you on behalf of Jesus Christ—who called you, anointed you and filled you with His Holy Spirit!"