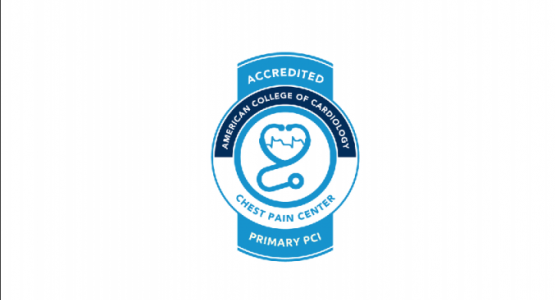 Adventist HealthCare Hospitals Recognized with Prestigious Accreditations in Chest Pain Treatment
October 25, 2021 ∙ by vmbernard ∙ in Adventist HealthCare
Adventist HealthCare White Oak Medical Center and Adventist HealthCare Shady Grove Medical Center have been recognized by the American College of Cardiology (ACC) for demonstrated expertise and commitment in treating patients with chest pain. These Adventist HealthCare hospitals have earned Chest Pain Center with Primary PCI Accreditation based on rigorous onsite evaluation of the team's ability to evaluate, diagnose and treat patients who may be experiencing a heart attack.
Shady Grove Medical Center also earned Cardiac Cath Lab Accreditation, a recognition of its dedication to treating patients who come to the cardiac cath lab for care. Hospitals that have proven exceptional competency in treating cardiac cath patients have standardized their processes from initial assessment to discharge.  
"Our Chest Pain Center Accreditations highlight the coordinated care provided by our emergency departments, cardiology and cath lab teams and Emergency Medical Service (EMS) providers," said Helen Tuffee, Vice President of Cardiovascular Services for Adventist HealthCare.  "They also demonstrate our dedication to our community by adopting the best practices designed to improve the consistency and quality of care provided to our patients."
Percutaneous coronary intervention (PCI) is also known as coronary angioplasty. It is a non-surgical procedure that opens narrowed or blocked coronary arteries with a balloon to relieve symptoms of heart disease or reduce heart damage during or after a heart attack. Hospitals that have earned the ACC Chest Pain Center with Primary PCI and Cardiac Cath Lab Accreditation have proven exceptional competency in treating patients with heart attack symptoms with the standard Chest Pain Center protocols and have primary PCI available 24/7.
The most common symptom of a heart attack from both men and women is chest pain or discomfort. However, women are more likely to have atypical symptoms. Our shared goal is to significantly decrease the effects of heart attacks by teaching the public to recognize and react to the early symptoms of a possible heart attack and call 911 right away.
Learn more about the early signs and symptoms of heart attacks  and take a free heart health assessment to understand your risk for heart disease.