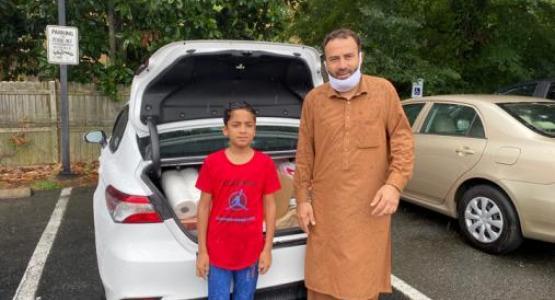 Adventist Community Services of Greater Washington Helps Afghan Refugees Settle
August 18, 2021 ∙ by vmbernard ∙ in Potomac Conference
Story by V. Michelle Bernard
Adventist Community Services of Greater Washington (ACSGW) is working to assist Afghan refugee families who have recently settled in the Washington, D.C., area.
To help with their transition, the community center, located in Takoma Park, Md., is collecting personal care items, dishes and kitchen items, books, furniture and food to distribute to local organizations like Homes Not Borders.
In addition to welcoming Afghan families, ACSGW will also provide support to recently arrived asylum seekers from the southern border, says Ken Flemmer, executive director.
Flemmer isn't sure how many families will be assisted but says that the amount of people who were served in the past week is what the organization usually helps in a month, "and every indication is that it will shoot up," he says.
Thankfully, the community is helping to meet this need.
"The ACS phone is ringing nonstop," Flemmer says. "We are getting calls from all over the U.S. asking how they can help, wanting to give cash, buy and have things shipped."
On the first day of collection, staff filled a 12-by-12 room to the ceiling with hygiene items, linens, toys, school supplies, kitchenware and more. Potomac Conference's Takoma Park and Sligo churches in Takoma Park, Md., have offered space to store and sort items.
ACSGW is also planning to distribute gift cards and help families with expenses such as getting state-issued IDs and setting up phone services. 
To donate or find out more information, visit acsgw.org.