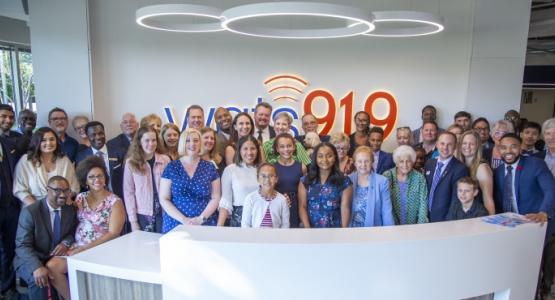 WGTS 91.9 Named "Certified Best Christian Workplace"
May 13, 2020 ∙ by Web Administrator ∙ in WGTS
Story by Jerry Woods
The Best Christian Workplaces Institute has just named WGTS 91.9 as a "Certified Best Christian Workplace" for 2020. In 2020 all the staff members of WGTS 91.9 took a 55 question survey to share their reflections on the workplace culture and environment. Based on those surveys, WGTS 91.9 was granted the distinction upon its first attempt.
The BCWI gives its certification to businesses based on overall engagement as well as eight additional factors which include in the words of the institute: "Fantastic Teams, Life-Giving Work, Outstanding Talent, Uplifting Growth, Rewarding Compensation, Inspirational Leadership, Sustainable Strategy, and Healthy Communication."
BCWI says it's their mission to "equip and inspire Christian leaders to build a flourishing workplace." Their goal is to make Christian workplaces the most effective workplaces in the world. In a letter to WGTS 91.9, BCWI President Al Lopus said, "Congratulations to you and your leadership team on WGTS 91.9's certification as a 2020 Best Christian Workplace! Your dedication to employee engagement and healthy workplace culture are apparent in your exceptional results—well done!"
"It is such an honor for us all to serve the Nation's Capital and to work together as a focused and passionate team while doing so. The certification by BCWI is confirmation of what I am privileged to witness every day - a team that loves to serve," said WGTS 91.9 General Manager Kevin Krueger.
WGTS 91.9 has been serving the greater Washington D.C. area since 1957 with a mission "to encourage everyone we encounter to take one step closer to Christ." After 63 years in Takoma Park, the ministry moved to a brand-new facility in Rockville, Maryland in late 2019.