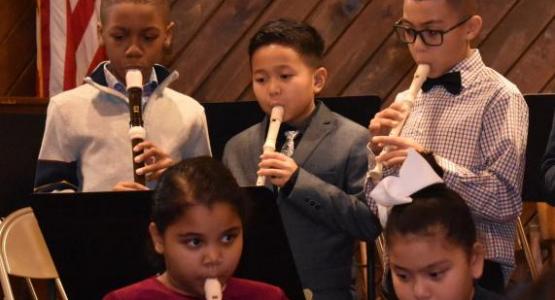 Lake Nelson Adventist Academy's Music Department Plays a New Tune
April 23, 2020 ∙ by rbacchus ∙ in New Jersey Conference, Education
Story by Samantha Rivera
The New Jersey Conference Lake Nelson Adventist Academy's (LNAA) Music Department is reaching new heights this acadmic year. The head of the department, Henoc Morrobel, a talented musician, leads the orchestra and band; the high school choir director, Mahaleth Forbes, uses her tremendous capabilities in music; and the middle school choir director, Kimberly Francis, exercises her gifts of leadership and creativity to conduct the Harmony choir.
These teachers organized a concert at Rutgers University (N.J.) in the Kirkpatrick Chapel. Selling out in less than a month, the LNAA orchestra, band, high school choir and Harmony choir packed the house. By invitation, the high school choir also traveled to churches in and out of state. To round out 2019, the LNAA Music Department performed for the holiday program and Benefit Gospel Concert.
"There is evidence that God is using the department to spread the gospel and share the love of Christ with others. Not only have the students themselves been blessed, but noticeably the audiences as well, including parents and teachers," says one LNAA parent.
"Being in the high school choir has impacted me in many ways," says junior Amy Colon. She went on to explain how she was hesitant to join choir this year, but after joining, she believes it was "worth it" and she "wouldn't want to be in any other choir." Students like Colon have realized the significance of the performances, and she is glad to be a part of the legacy LNAA is leaving behind.