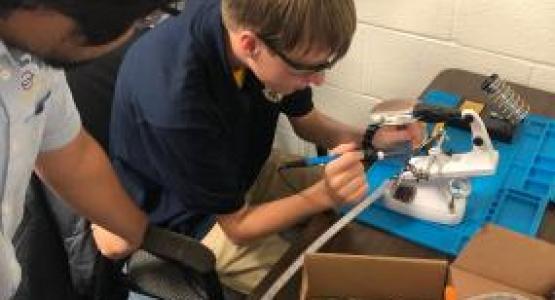 Highland View Academy Becomes First NAD STEM-Certified School
April 09, 2020 ∙ by rbacchus ∙ in Chesapeake Conference, Education
Story by Andrew S. Lay
Under the auspices of the National Institute for STEM Education (NISE), affiliated with Rice University (Texas), Highland View Academy (HVA) was recently recognized for being a STEM-certified school. This is a first in the North American Division (NAD). Faculty also received the National Certificate for STEM Teaching, including Myrna Biswas-Nowrangi, Ophelia Barizo and Colleen Lay, and teachers Lisa Norton and Paty Serrano.
HVA is also the first academy in the NAD to develop a STEM certificate program for high school students. This program provides students STEM education courses and internships in preparation for STEM-related careers. Innovative classes such as Project-Based Learning (PBL), Integrated STEM and Robotics help create hands-on education to explore and create new solutions to health- and engineering-related problems.
"Recently the STEM department has been working on a High Altitude Balloon project. The students in PBL I and II have been working in groups to design a payload containing environmental sensors, cameras, a GPS and radio communication equipment that will be carried to around 100,000 feet in the air by a weather balloon," states STEM faculty member Kenji Nomura. "In the process, the students developed circuits, wrote code, earned ham radio technicians' licenses and created an online presence." To follow their progress, visit Instagram.com/hva.stem.
Other activities throughout the school year help to enhance the STEM program, including the annual STEMfest in the fall, after-school programs for elementary and middle school students in the spring and various STEM lectures from STEM professionals.