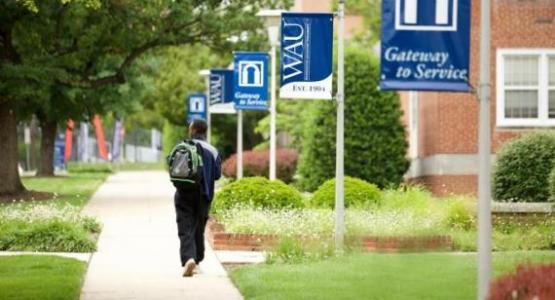 Washington Adventist University Offers New M.Ed. in School Counseling
December 12, 2019 ∙ by rbacchus ∙ in Washington Adventist University
Story by Washington Adventist University Staff
Washington Adventist University (WAU), located in Takoma Park, Md., was recently approved by the Maryland State Department of Education for a joint psychology-education M.Ed. School Counseling degree. This is a nontraditional 48 credit hour 18 month degree program offered through our School of Graduate and Professional Studies (SGPS). Students who have a background in education, counseling, psychology, theology, or social work will find this degree to be an excellent career selection. This type of career is great for those who want to offer psychological counseling, identify learning disabilities, assist students in choosing potential career paths, serve as a liaison between the student and parent, improve student learning and teaching efficacy. School counselors are compassionate, empathetic, intelligent, and passionate about enhancing the lives of students.
WAU's motto "Gateway to Service" captures the spirit of this new program. Graduate students throughout the program are taught to be sensitive to the emotional, spiritual, and physical health in order to facilitate the academic and learning process. WAU's joint psychology and education departments mission is assist the graduate student to develop into a fully competent, caring, ethically motivated school counselor based upon the standards maintained by Maryland State Department of Education, American School Counselors Association, and Council for Accreditation of Counseling and Related Educational Programs for School Counseling.
School counselors play an important role in private and public schools but sadly there are not enough school counselors to adequately deal with the problems encountered by young people. To meet this challenge and as a part of the professional training, graduate students take such courses as Introduction to School Counseling, Special Education Counseling, Techniques & Theories of School Counseling, Program & Planning, Practicum and School Internship.
This new degree is designed to train, equip, and prepare graduate students with the necessary theoretical knowledge and practical experiences in school counseling using various class scheduling formats so that students may work and complete their degree on time. Graduate students develop professional school counseling skills that will assist K-12 students to be successful in life. Students gain practical experience as they complete their School Practicum and Internship placement in the Prince Georges County Public School system.
This new degree is a great opportunity for students who want a faith-based counseling program. We are told in Matthew 9:35-38 that preaching, teaching and healing are important avenues to reach people who are weary and have no life direction for they are in need of a compassionate counselor. The harvest is large and we need individuals who desire to reach those K-12 students who are lonely, depressed, abused, bullied, addicted, and filled with anxiety. Will you be the one to answer this call? Come and meet our outstanding faculty who have the academic training, field experience, and are committed to our biblical message of hope. If you want to make a big difference in the life of a young person, in a school setting, then make a decision now to enroll for spring 2020 admission. You are invited to contact Elcy Chacko (X4138) our enrollment counselor in SGPS and apply now.