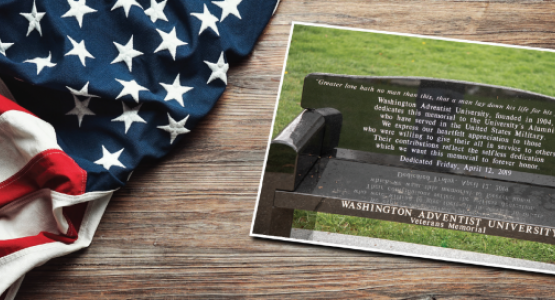 Washington Adventist University Memorial Bench Honors Veterans
July 02, 2019 ∙ by rbacchus ∙ in Washington Adventist University
Story by Washington Adventist University Staff
A year ago Charles Shyab approached President Weymouth Spence with an idea; he wanted to recognize others like himself: Veteran alumni of Washington Adventist University, formerly known as Columbia Union College (CUC), and Washington Missionary College (WMC) with a special commemorative piece on campus. During the 2018 Alumni and Parents Weekend, he helped to kick off what would serve as a campaign to raise awareness and funds for a Veterans Memorial Bench.
Charles Shyab was drafted by the US Army from 1967 to 1969 and served as a Conscientious Objector Senior Medic with the 4th Infantry Division 1/22 Battalion C Company. Most notably he served in Vietnam in the 1968 Battle of Chu Moor Mountain near the Cambodian border. He graduated from WAU (then known as CUC) in 1970 with a Bachelor of Arts in History.
"Ever since graduating from CUC in 1970 and having passed the Gateway to Service Arch over the years, I have thought of a way to honor the military service of my classmates and the many others who attended the school and were willing to give their all in service to our nation," expressed Shyab.
On April 12, during the 2019 Alumni and Parents Weekend, what was once an idea became a reality. The Office of Advancement and Alumni hosted the ribbon cutting ceremony featuring keynote speaker U.S. Army Surgeon General and Commanding General of the U.S. Army Nadja West. Also present were representatives from the United States Department of Veterans Affairs, and the Comptroller of Maryland's office, the John F. Kennedy High School NJROTC Color Guard Cadets, and many veterans. The bench was made possible by donations from individuals and the Vietnam Veterans of America Montgomery County Chapter.
"Our veterans have committed their lives in ways we may not all understand, shared West. "We appreciate their service and total commitment in terms of time away from family, exposure to hardship and potential for injury and illness that may take years to recover from."