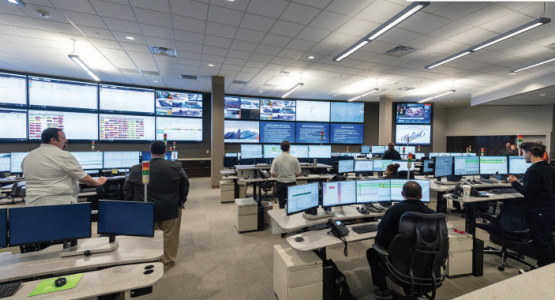 NASA-like Operations Command Center Helps Patients Get Care Faster
May 02, 2019 ∙ by rbacchus ∙ in Coronavirus Pandemic, Kettering Health, Health & Lifestyle
By Christina Keresoma
Kettering Adventist HealthCare, based in Dayton, Ohio, recently celebrated the opening of its new operations command center, powered by TeleTracking software, which helps coordinate patient flow throughout the system.
"The network operations command center's mission is to care for the over 20,000 patient admissions and transfers every month by maximizing the efficiency of patient movement to get them quick access to the care that they need," explains Nancy Pook, M.D., medical director of the command center. "This will allow our physicians, nurses and care teams to focus on patients while the center works to facilitate the movement of patients to the right place, the right bed, the right time—the first time."
The facility coordinates the flow of all incoming, admitted, transferring or discharging patients. The team appropriately places patients according to the level of care needed, available resources, and other factors—working closely and communicating with each unit. It currently centralizes the network's patient transportation, patient bed placement, and path of discharge, with plans to centralize other operations in the coming years.
By using TeleTracking software, command center staff can view the status of every patient bed in real time in every network hospital and medical facility. This insight helps guide the command center in determining the best bed in the most appropriate care setting for the patient, based on a number of factors such as diagnosis and information from the admitting physician or EMS.