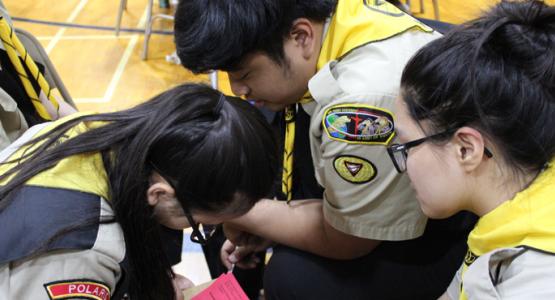 Columbia Union Pathfinders Advance to NAD Pathfinder Bible Experience
March 14, 2019 ∙ by vmbernard ∙ in Columbia Union News
Story by V. Michelle Bernard
On Sabbath, 37 Pathfinder Bible Experience (PBE) teams from around the Columbia Union Conference gathered at Potomac Conference's Takoma Academy (TA), located in Takoma Park, Md., to test their knowledge of the book of Luke.
In the morning, the teams scattered across the TA gym, answering 90 questions. Many of the participants memorized entire chapters of the book.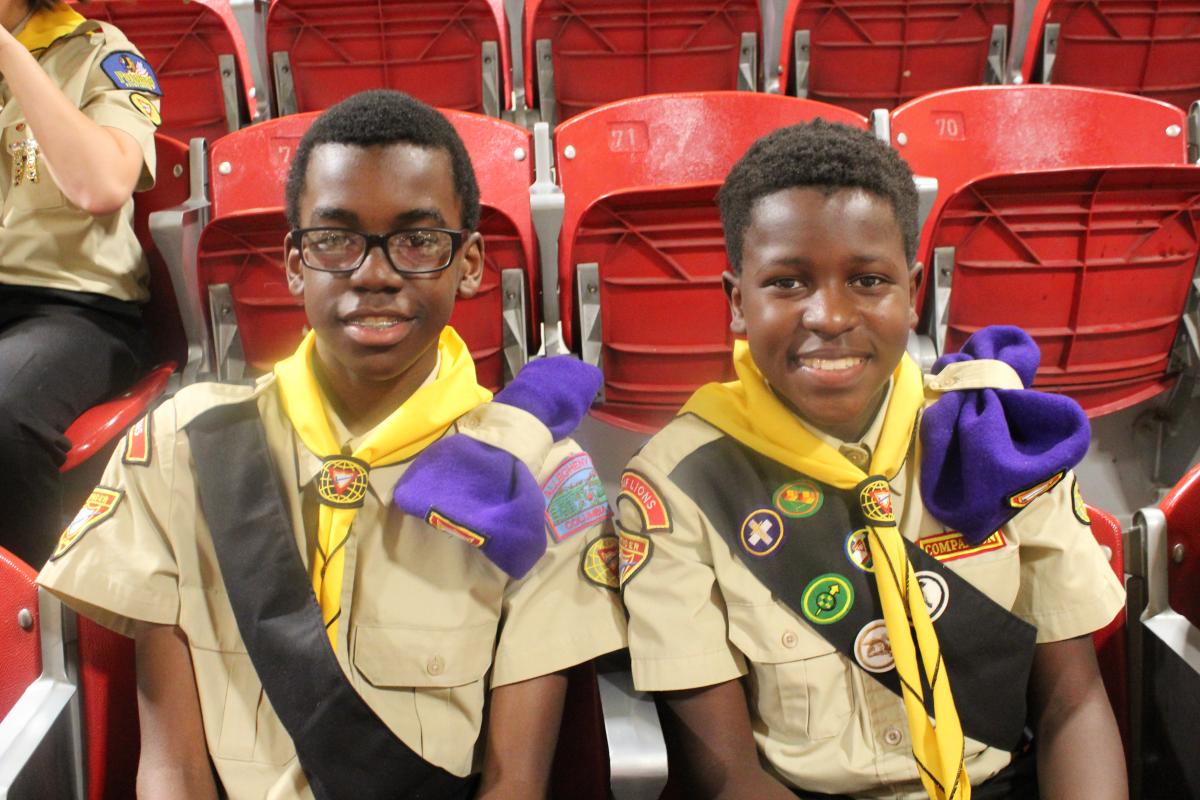 Isaac Apencha (pictured right with Kevin Moseit), a Pathfinder from Allegheny East Conference's Living Springs Lion Pathfinder Club, has participated in PBE for the last two years. A member of the Living Springs church in Glen Burnie, Md., Apencha says he studied for more than 50 hours each year to get to the union-level event, learning many things along the way.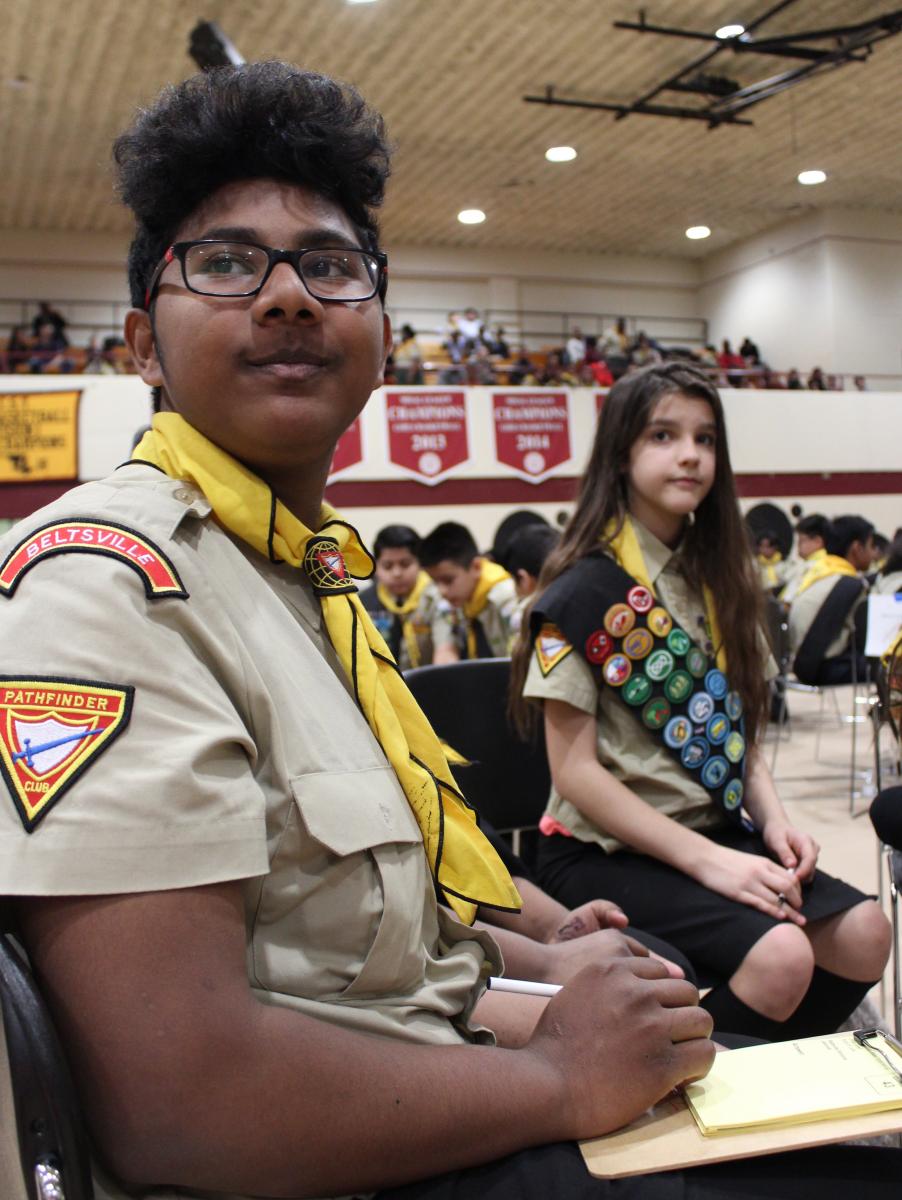 Michael Selwin (pictured right), a member of Potomac Conference's Beltsville Broncos Jehovah team, says he studied at least 40 hours to be prepared. Selwin, a Beltsville (Md.) church member, shares he joined so he could study the Word of God. His mom, Sonia, has seen other benefits. "Instead of spending time on TV and games, it forced him to memorize verses and spend time with friends," she says.
Pathfinders and their parents aren't the only ones spending extra time preparing for the event. Dejan Samardižić (pictured below with his famiy), director of Ohio Conference's Akron Crusaders, says his team members met four days a week for two-hour periods since the fall (not including individual study time.)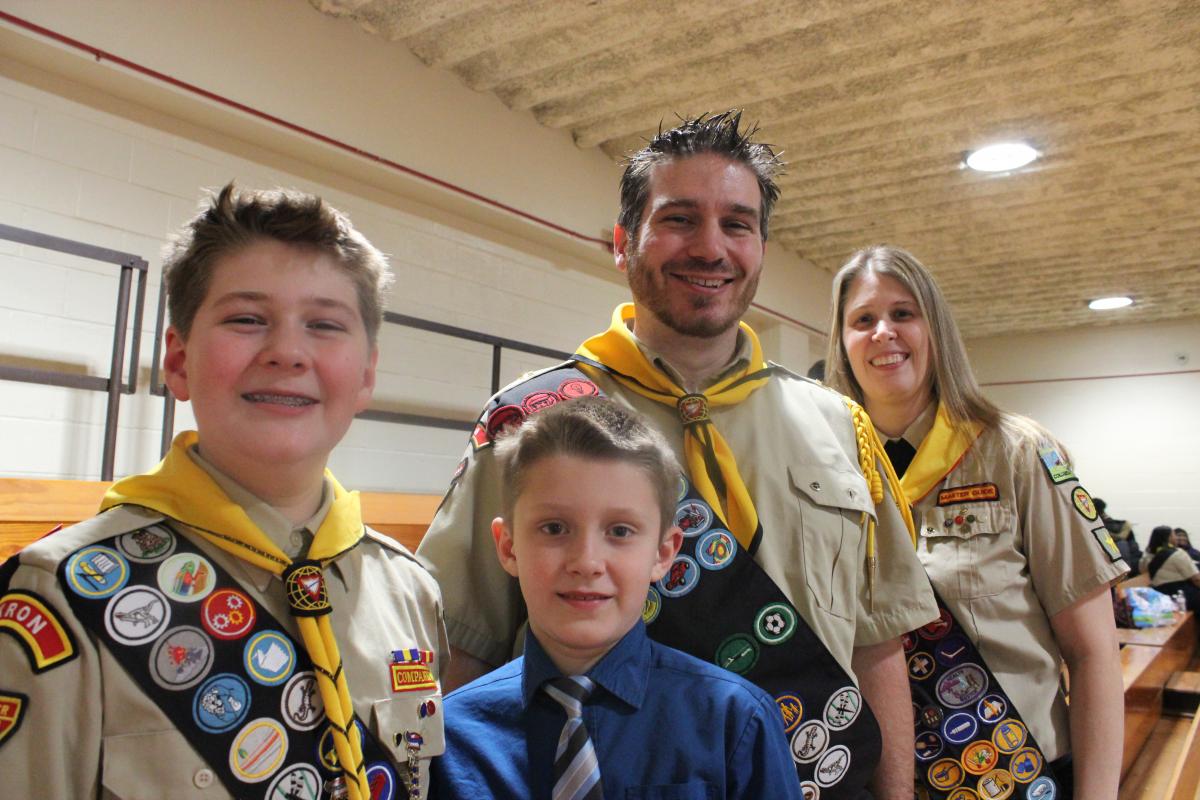 In its eighth year, participation is down from 57 clubs last year. Pam Scheib, the union's PBE coordinator, says the drop is likely due to the upcoming camporee in Oshkosh this summer.
After lunch and worship, participants learned that out of the 37 teams, 23 placed first and will continue to the North American Division level event in Rockford, Ill., in April.
Scheib says, "The biggest takeaway is knowing how much time these young people have spent in studying the Bible and this year on the life of Christ. What more can we ask than that our Pathfinders are more biblically knowledgeable than most adults?"
Here are the teams that will continue on to the division-level event in April:
Allegheny East Conference
Community Falcons - Team 1
Community Falcons - Team 2
Genesis Jaguars
Living Springs Lions
Maranatha Warriors - Diamonds
New Jersey Conference
Bridgeton Heaven's Army - Gerizim
Piscataway Eagles - Faithful
Piscataway Eagles - Loving
Ohio Conference
Akron Crusaders
Beavercreek Broncos
Pennsylvania Conference
Bethlehem Eastern Trumpets - Team A
Bethlehem Eastern Trumpets - Team B
Hamburg Blue Mountaineers
Philadelphia Blvd. Heaven Bound - Team A
Potomac Conference
Beltsville Broncos - Jehovah
Beltsville Broncos - Lamb of God
Beltsville Broncos - Lion of Judah
Beltsville Broncos - Master
CPC Panthers – Heart
CPC Panthers – Soul
CPC Panthers - Strength
Fredericksburg Patriots
Leesburg Soaring Eagles – Jerusalem